The Lions Club Story
Lions Clubs International:
Lions Clubs International was founded in 1917 as a vehicle for successful people to perform community service. In 1925 the group made sight-improvement one of its most important components, prompted by Helen Keller's address to the Lions Clubs' convention in which she urged the members of the Lions to become "knights of the blind in the crusade against darkness." In taking up Keller's challenge, Lions Clubs International have "worked on projects designed to prevent blindness, restore eyesight and improve eye health and eye care for hundreds of millions of people worldwide," the organization's website states.
Lions Recycle For Sight:
The World Health Organization estimates that 120 million people worldwide are nearsighted, farsighted, or have an astigmatism. Most of these vision impairments are quickly diagnosed and easily treated with corrective lenses. However, a lack of eyeglasses pushes millions of people in developing nations deeper into poverty. Children can't do well in school, because they have difficulty reading. Adults can't do well at work, because they can't see clearly. To address this need, the Lions Clubs International started the Lions Recycle For Sight program. Throughout the year, Lions, "Leos" (young Lions, age 12-30, whose group name stands for Leadership, Experience, Opportunity), and other volunteers collect used eyeglasses and deliver them to regional Lions Eyeglass Recycling Centers (LERCs). LERC volunteers clean, sort by prescription strength, and package the glasses. Most of the recycled glasses are distributed to people in need in developing countries where they will have the greatest impact.
Story of Zenni
Zenni Optical was founded in 2003 by two scientists who thought, doesn't everyone deserve to look good while wearing an affordable pair glasses?
Thus Zenni was born in the San Francisco Bay Area - a natural fit in the home of forward-thinking, tech-savvy companies. The mission was clear: give people glasses they can actually afford but still make them look like a million bucks. It started small, a little company with big ideas, but it quickly grew into a phenomenon. Fashionistas, moms on-the-go, discerning customers; everyone found that they could get the selection they deserved at prices they could afford with Zenni Optical.
Now those two scientists are spreading lots of love to their customers. Since those humble beginnings, Zenni has grown into an online optical industry leader. That's prescription eyeglasses online. Prescription sunglasses online. Non-prescription sunglasses online. Sports glasses online. Goggles online. Maybe you get the picture. Zenni's online.
Zenni Optical was built upon these principles, and is dedicated to fulfilling them:
+

To provide the most affordable eyeglasses to people all over the world.

+

To provide the highest-quality optical lenses to our customers.

+

To make it easy to order eyeglasses online.

+

To provide exceptional customer support.
Zenni Optical's mission:
Our mission is to provide high-quality, low-cost eyeglasses to people all over the world. But we don't stop there. Because there are people in various parts of the world who don't have access to vision care, Zenni Optical also donates tens of thousands of pairs of eyeglasses – and gives sizeable cash donations – to Lions Clubs International every year, through the service organization's Lions Recycle for Sight program. In addition, Zenni soon plans to announce a new, innovative partnership with Lions Clubs International's Lions In Sight program, which should create a more efficient and effective way to get free prescription eyeglasses to people in need.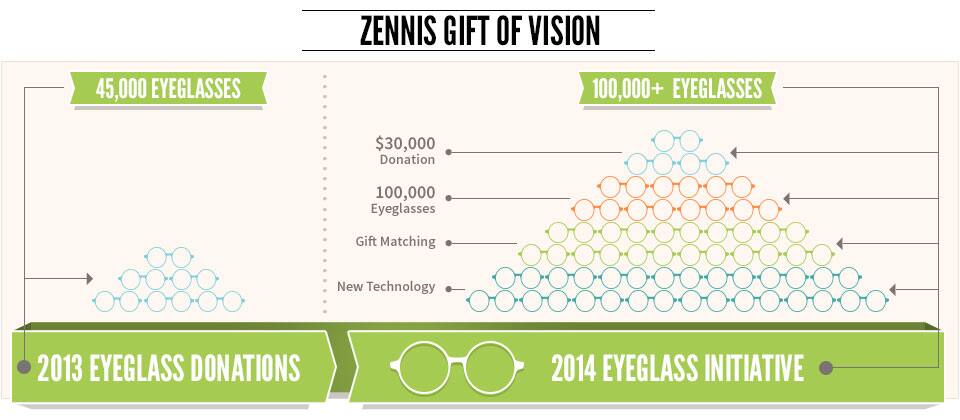 How We'll Reach Our 100,000 Goal!
This year, Zenni's donation increased to $30,000, which will be converted into $500 gift cards, to be distributed by Lions Clubs members to such recipients as local school districts and senior health clinics, to purchase prescription eyeglasses for people in need. The eyeglasses are then distributed globally – to locations such as Mexico, the ,Philippines, and India – where prescription eyeglasses are matched with the refractive corrections needed by people living in poverty who could not otherwise afford them.
Gift Matching:
Zenni's 2014 plans also include a gift matching element on the website. Every time someone purchases a pair of glasses they will have the opportunity to help Zenni and Lions Club by donating a pair of glasses themselves!
New Technology:
Moreover, Zenni Optical is planning to launch a new initiative that will be an innovative, efficient way to provide Lions Clubs prescription eyewear to be distributed to people in need.
100,000+ Pairs: 2014 Initiative
The current method of distributing prescription eyeglasses to people who attend Lions Clubs clinics involves matching already-manufactured prescription eyewear with the prescriptions of people in developing countries who cannot afford to purchase prescription eyeglasses, or who have limited or no access to vision care. Now Zenni's lab technicians are developing a program to manufacture 100,000+ pairs of prescription eyeglasses to be distributed free to people in need.
By standardizing various technical components of creating prescription eyewear – including grinding the corrective-lens prescription and placing the optical centers precisely on each lens, in various increments of refractive corrections that will address the vast majority of nearsighted, farsighted, and astigmatism prescriptions – Zenni's lab technicians will be able to create ready-to-wear eyeglasses that eye doctors will be able to match with the prescriptions of people who are examined at Lions Clubs clinics by simply lining up notches on the lenses with notches on the frames. This will immediately correct their vision and enable them to see clearly for the first time.
The Gift of Vision Making Lives Better.
Zenni's donation of eyeglasses through Lions Clubs International's Recycle For Sight depends on dedicated volunteers, such as Lions Club member Bill Britter, who picks up thousands of pairs of eyeglasses that Zenni donates every month, and other Lions, including optometrists, who travel to locations such as Las Mochis, Sinaloa, Mexico, where they distribute eyeglasses to people in the makeshift eye clinic in Las Mochis. "We've seen a lot of diabetics and high amounts of astigmatism," said lead optometrist Julia Kimball, who travels with other volunteers to perform eye exams and prescribe corrective lenses. "However, the vast majority of people we see just need help with their near vision." One of those people, Maria Elena Gonzalez, described her response to the volunteers and donations. "The feeling is overwhelming," she said through a translator. "It's really a blessing to be able to receive this type of service."
During a two-day clinic, the eyes of almost 1,000 men, women, and children are examined. "We also see and treat a number of patients that need minor therapies, such as eye drops for various conditions like allergies or conjunctivitis," said optometrist Suzanne Huang. After examining and treating patients, the optometrists match prescription eyeglasses donated by Zenni and others with people's prescriptions. "The opportunity was offered to me, and I took advantage of it," said Elena Galindo, speaking through a translator. "I'm glad I did, because not only did it help our family financially, but I was able to see the smile on my son's face, and he was able to see better." The feeling of satisfaction that volunteers experience was summed up by Kimball, who said of the mission, "It teaches everyone so much about giving to each other, and how much you receive when you give to others." Zenni is gratified to be able to contribute to making so many people's lives better through the gift of vision.