A Fun Look Back At Elton John's Eyeglasses
"I remember when rock was young" … and so was Elton John. Looking back to the 1970s, Elton was even more flamboyant in clothing choices than Liberace, yet the focus was always on his creative eyewear. While he eventually cut out the gimmicks like built-in windshield wipers, over four decades later, Sir Elton John (he was knighted by Queen Elizabeth in 1998) still creatively (and constantly!) rocks glasses.
Rumor has it that the "Crocodile Rock" singer requested a separate hotel room for his eyewear collection on his recent tour in Brazil, but John's publicists deny this one. What's supposed to be for sure though is that lyricist Bernie Taupin, John's collaborative partner from his early career days on unforgettable songs like "Tiny Dancer," is now working on EJ's new album, "The Diving Board." It's due to be released this September, 2013 and we hope it makes a real splash just like old times.
Speaking of old times, here's a revealing retrospective of the evolution of Elton's eyewear:
This "R
ocket Man" is Spaced Out
A transparent, large, full-rim, plastic frame with clear cords and beads creates an early Elton masterpiece way before the likes of Lady Gaga. There's no way this budding singer slash piano player was ever going to be forgotten by the public!
Is This Frame a Camera or a Washing Machine?
It's Elton's own Water World and there's a lot going on. When your glasses stand out more than your fabulously-fluffy, electric blue boa, you know it has gotta be all about the eyewear!
I Sparkle Fur You
Sparkly piano, sparkly eyewear … what more do you need except a white fur cape?
Creature Feature
Presenting a new take on the smoking jacket and dunce cap in 1975, here's a bare-chested, piano-playing, pixie-like creature captivating stunned audiences everywhere. Elton's sure no dummy and he has nicely coordinated his eyewear so that the delicate, open metalwork details on the upper frame tie-in with the peaks on the collar, sleeve and hat of his costume.
Hip to Be Squared
Elton John is looking super-handsome here. This tinted, metal-rimmed, square frame is just perfect for flattering his fine facial features.
To Bee or Not to Bee?
Were these glasses inspired by a honeycomb? Whether they were or weren't, they even manage to upstage this bold bee costume complete with pollen-poms.
Look Conservative Like It's 1999
In this photo taken in 1999, the only clue to Elton's elaborate fashion sense is the dangly earring. What a nice, classic frame choice, Mr. John!
Hold Me Closer, Tiny … Gnome
These sure are some fancy gardening glasses, complete with blue glitter and a blue-hatted gnome carrying a tiny shovel. We love the crystal flower at the other temple.
Don't Shoot Him, He's Just the Red Piano Player
We adore EJ's red-tinted glasses and his attention to detail. This photo was snapped during Elton's "The Red Piano" show in Las Vegas in 2009. Do you think his undies and socks are red too?
EJ Makes GQ
This is how you do it! Just dress head to toe in one neutral color and add your favorite accent color of fun, plastic-rim glasses with a matching scarf. Thanks EJ and GQ!
Marching to a Different Drummer
Instead of "Goodbye, Yellow Brick Road," 1973, it's 'Hello, Yellow Big Glasses,' 2013. This March photo shows that Sir Elton hasn't shied away from color and is dressed in a combo of spring hues that would rival the fanciest Easter egg. Don't you love the yellow glasses? Here are a few pairs to check out: (Just click on the glasses for more info.)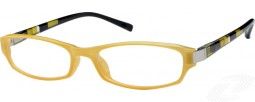 Zenni 259022    $19.00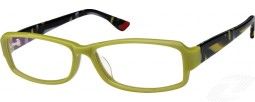 Zenni 607934    $27.95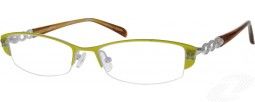 Zenni 794422    $25.95