Golden Globe Awards – Rock the Red Carpet Looks!
At the Golden Globe Awards yesterday Matt Damon said he forgot his glasses and had trouble reading the TelePrompter.
But most of the other eyeglasses-wearing celebrities attending the biggest Hollywood awards ceremony before the Academy Awards brought their glasses. And they rocked 'em!
From Meryl Streep's black oval cat-eye frame to Bono's lavender aviators, Hollywoood's elite were ready, willing, and able to show off their stylish eyewear.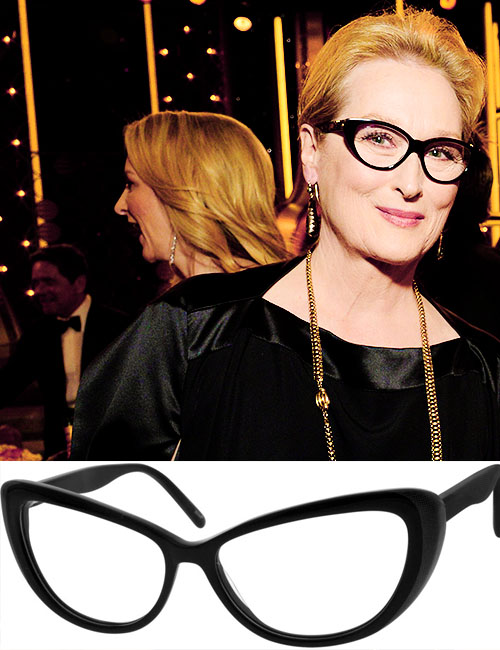 Does Meryl Streep need another award? Maybe not, but Zenni's similar frame 302621 deserves one!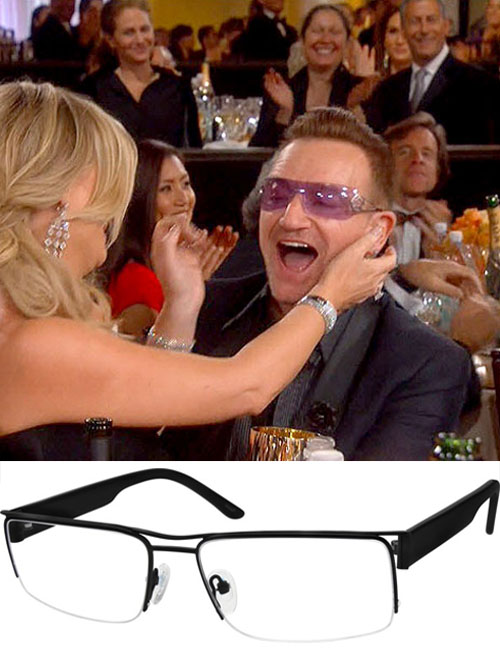 Put a purple tint like Bono's in the lenses of Zenni's frame 537021 and you'll rock hard – even without The Edge on guitar.
Even if you don't have the kind of big bucks movie stars have to spend on eyeglasses, you can still look just as glamorous, with super-affordable Zenni glasses in styles that are similar to the glasses worn by your favorite celebrities!
Robert Redford was cool in his little round plastic frame. Check out Zenni's frames 438021 or 830021, and you'll hear people humming a new song: "The Way We Wear" (glasses, that is!)
"Brooklyn-Nine-Nine" actress Stephanie Beatriz looked amazing in a pair of glittery blue translucent wayfarers matching her blue gown as she stood onstage with her cast mates of the Golden Globe winner for best TV comedy series. Look at Zenni's frames 270523 and 662916, and perps (and maybe a few pervs) will beg you to handcuff them.
Bruce Dern represented the second Golden Age of cinema (late '60s-mid '70s) generation, with face-flattering rimless glasses. Check out Zenni's frame 315811 for a classic rimless frame.
James Spader, star of the new, highly regarded show "The Blacklist" rocked the red carpet with a pair of the season's must-have sunglasses style: a round, neutral-colored translucent frame with amber lenses. You'll be just as cool, when you put an amber tint in the lenses of 300122.

You'll stay off "The Blacklist" if you order Zenni's frame 300122, and don't be surprised if you're mistaken for James Spader. (If you're a woman that could be a problem.)
In a comedy bit with hosts Tiny Fey and Amy Poehler, "Veep" star Julia Louis-Dreyfus played diva as she smoked an electronic cigarette and deflected Reese Witherspoon's attempt at to take a cell phone shot of her in a pair of brown cat-eye shades.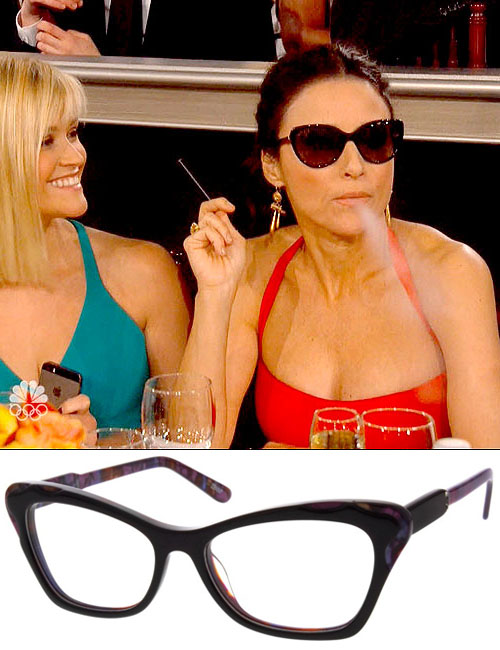 Did she inhale? Who cares? You'll look just as cool as Julia Louis-Dreyfus does if you get Zenni's frame 631817.
Black horn rims were the favored style for most of the Hollywood crowd, including Johnny Depp, Kevin Bacon, Diane Keaton, Christoph Waltz, and winning movie directors David O. Russell (best comedy or musical for "American Hustle") and Steve McQueen (best drama for "12 Years a Slave"), who wore an impressive pair of round black horn rims.

Who's as cool as Johnny Depp? Nobody? Wrong! You are, if you're wearing a similar pair of glasses, like Zenni's frame 629021.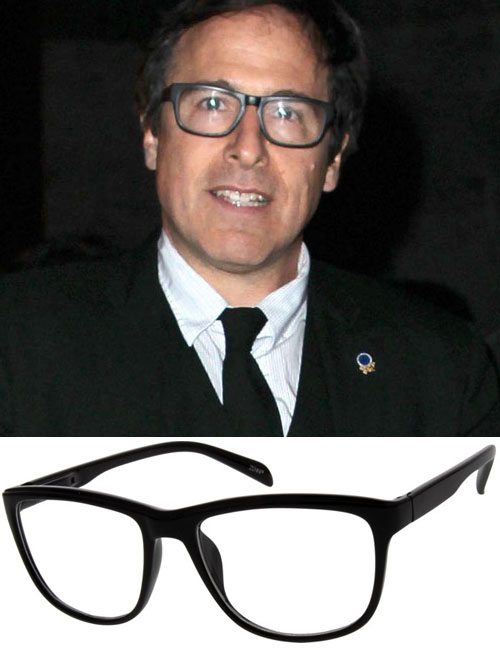 David O. Russell's glasses may not be as cool as Christian Bale's comb-over in "American Hustle," but you'll show all-"American Hustle" in Zenni's similar frame 287821.

A hallowed movie name returns as the moniker of a great director who may be on his way to an Academy Award for "12 Years a Slave." You'll rock your viewfinder in Zenni's similar frame 484512.
Martin Scorsese, who wore his trademark burgundy horn rims, was paired with Woody Allen in a joke made by the co-hosts about who is the tiniest man in movies with the biggest pair of glasses.

Martin Scorsese may be small in size but he's huge in cinematic stature. You'll look just as distinguished in Zenni's frame 366615.