Kim Kardashian's Sentimental Sunglasses Stolen
It was an inside job when Kim Kardashian's vintage sunglasses, a gift from her father just before he died, no less, were nabbed from Kim's luggage recently. It happened on her recent trip to Cannes, France and when Kim arrived back in L.A. after said trip, she took to Twitter like a mad hen. Kardashian Tweeted angrily that someone on the British Airways staff stole her sentimental eyewear. Usually, I pay no mind to spoiled stars slamming some company or other that forgot to give them bottled water to wash their hair, but this is way different.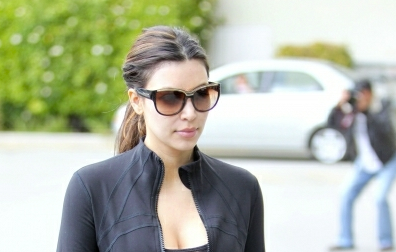 Although the luggage is expensive enough and the purses cost about $1,000 each, it's the sunglasses theft that upset Kim the most. She didn't mention on Twitter what the shades looked like, but this is one woman who wears over-sized sunglasses extremely well. They look elegant on her and highlight her features. But, of course, that isn't the point. The point is that the shades were given to Kim by her dad, Robert Kardashian, shortly before he died. As Kim Tweeted: "Some things are sentimental and not replaceable." Kim has all the money in the world with which to buy more luggage, purses and sunglasses, but never again can she receive something from her father again. Poor Kim. Bad British Airways.

Very disappointed in British Airways for opening my luggage & taking some special items of mine!Some things are sentimental &not replaceable

— Kim Kardashian (@KimKardashian) May 27, 2012

British Airways, who will have to try and build up their security image after this, did investigate Kardashian's accusation. Kim was on them to go through surveillance video to find the offenders. While it's not clear whether that was done, British Airways did release a statement saying that their investigation showed that the theft occurred in flight somewhere between London and Los Angeles.

What happened to the days when you could lock your bags! We need to get back to that. There's no sense of security & no trust!

— Kim Kardashian (@KimKardashian) May 27, 2012

That Kim Kardashian still has lots of money remains evident. Her recent gift to boyfriend, Kayne West, who turned 35 on Friday, June 8, was a $750K Lamborghini Aventador LP 700-4. Since Kayne was in Ireland for his Watch the Throne tour at the time, Kim sent him a video of the hot black car. Yes, this sunglasses stealing and oodles of dough to blow on rich rides can remind us that money is one thing, but sentimental belongings are another. Hopefully, Kim will now keep any other sentimental items with her. The person who stole the glasses should send them back to Kim, of course, but yeah, we're not holding our breath on that.