Poetry, Love Letters and Glasses

It's February again, and that means it's time for the new Zenni Valentine's Collection! (Check out the sneak peek at the bottom of this post!)
As Valentine's Day approaches, romance permeates the air complete with grandiose plans, thoughtful gifts and declarations of love. At Zenni, we believe that Valentine's Day is not merely about loving your romantic partner though – which is good news for us singletons out there! 😉
Valentine's is also an opportunity to express love and appreciation for the things that make our daily lives better, such as our friends, pets, cozy sweaters, and of course, the glasses that enable us to take in the beauty of our world, while also providing a dash of panache to our look!  That gratitude is why we want to send you a valentine of your own and the gift of a 15% discount when you sign up for our newsletter.  It's also why we penned this ode to the glasses we love making for you:
Zenni Sonnet 18
Shall I compare thee to a blooming rose?
Thou art more graceful and more elegant:
Smoothly gliding up the bridge of my nose,
Resting comfortably, looking radiant:
And often is my precious vision dimmed;
And every sight from my eyes declines,
Yet vision is restored with lenses rimmed;
But thou beauty and purpose shall not fade,
Nor lose its place in my heart, on my face;
Nor shall others doubt thou provides shade,
When thou display clarity, strength, and grace;
So long as these glasses grant style and sight,
So long my collection grows, day and night.
Now You Try It!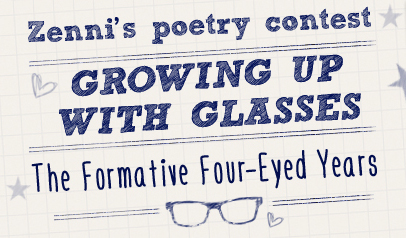 We hope you are not only amused, but also a little inspired. Because our belief in the power of poetry and the importance of education led to the launch of Zenni's Scholarship Poetry Contest. We would love for you to tap into your inner wordsmith and write a poem of your own about "Growing up with Glasses: The Formative Four-Eyed Years."
We'll be choosing three lucky winners on or around August 1, 2015 and you can find all the details here.  Not a student? Don't let that stop you from getting creative and enjoying the spirit of Valentine's Day in your own unique way!
And Now For The Sneak Peek!
And finally, as promised, here's one of our favorite frames from the new Valentine's Collection. These classic wayfarers, in that luscious red color, epitomize the Collection and Zenni's celebration of happiness in life and love. If you love what you see like we do, let us know in the comments below!