How to Pick the Right Glasses for Your Child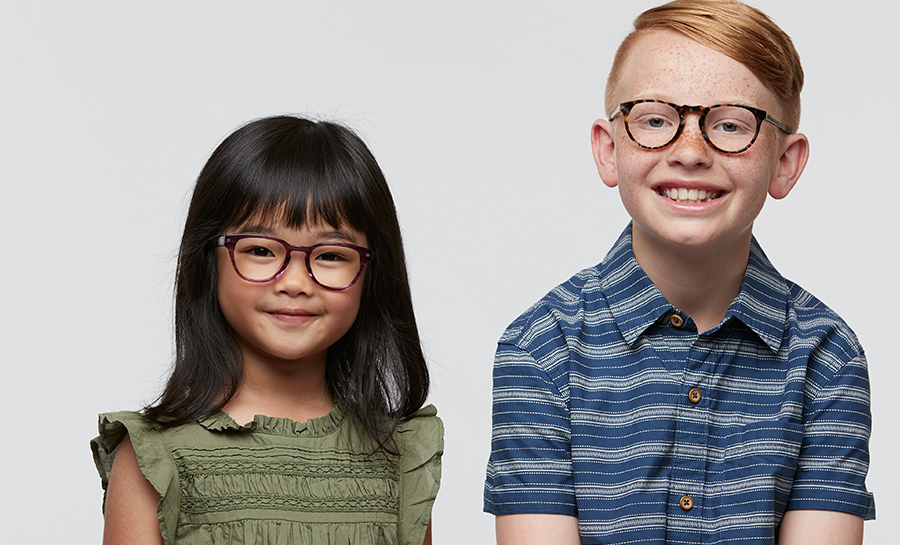 Did your child recently come home with a new glasses prescription from the eye doctor? Emotions may be running high as you and your child come to terms with the reality of glasses. However, rest assured that this is what's best for your child's ability to focus, learn, and thrive. 
You may have walked out of the office with some recommendations. If not, don't worry because we've got you covered with all of the information you need to find the right pair of glasses for your unique little one.  Our number one tip is to include your child in the process as much as possible. If they feel involved in picking out their glasses, they will enjoy and have greater success in wearing them!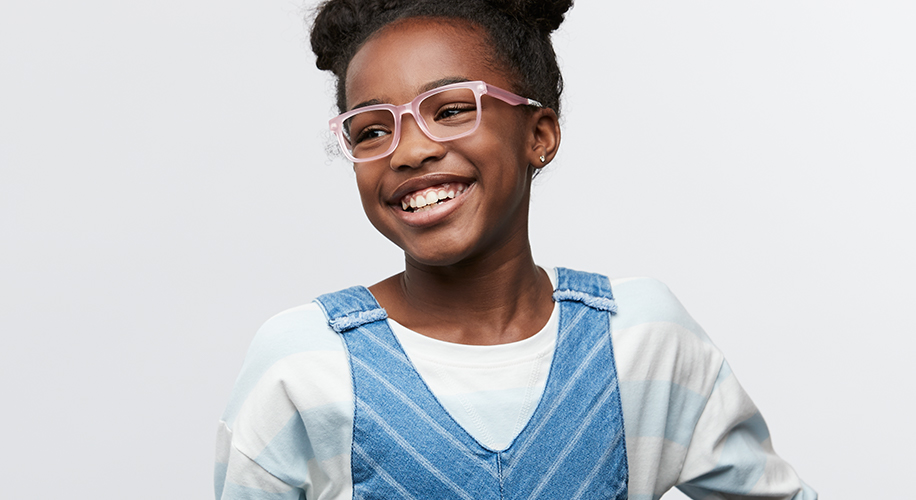 Finding The Right Fit For Your Child's Glasses
With the exam completed, the next step is finding a pair of glasses that will withstand your child's energy while providing comfort and clarity. The first consideration is to determine your child's glasses size. If this is their first pair, you can get a good estimate by selecting a size based on age (check out our chart here). If you want more accuracy, measure the width of a pair of sunglasses that already fits them well. 
Another important factor for a good fit is determining if your child needs extra nose bridge support. Many young children have low nose bridges, which can cause glasses to slide down easily. Glasses with nose pads or a /b/Feature-Universal-Bridge-Fit/Gender-Boy/Gender-Girl/_/N-412394632+99844780+1329621978?sizeOrder=1234510000″>universal bridge fit will help keep them in place. You can also consider features such as spring hinges, which give more flexibility to frames when placing them on, and/style-squad"> adjustable temple tips, which provide a custom fit behind the ears and help avoid pesky pinching.

Best Frame Materials For Kid's Glasses
The two most popular frame materials for glasses are metal and plastic. There are benefits to each one. Metals are great since they're lightweight and tend to come with nose pads. Plastic frames, especially /b/all-kids-glasses/Material-Acetate/_/N-2751821130?sizeOrder=1234510000″>acetate, come in many bright and interesting color patterns which kids tend to love. At Zenni, we especially love our durable/kids-flexible-glasses"> kid's flexible frames that are constructed out of one piece of plastic and come with a strap for a snug fit. If your child has skin sensitivities to certain materials (which can be common), choose a frame made from a hypoallergenic material like acetate or stainless steel. 

How To Narrow Down Style and Color Options
This is the part that kids get the most excited about. We recommend that you start by filtering frames by your child's favorite color. This will help keep them from getting overwhelmed with too many options. Frame style is also according to personal preference, with square, round and cat-eye being the more popular options. For tips on how to pick the most flattering shape for your child, check out this /glasses-for-face-shape">face shape guide. 

Choosing A Durable Lens 
With the frame selected, the next step is picking out the right lens materials. The right lenses need to be strong, durable, and provide clarity. Due to most kids' high activity levels, we highly recommend an impact resistant lens like polycarbonate or Trivex. The strength and impact resistance of both makes them a great option for kids. As a premium material, Trivex®  is 10% lighter than polycarbonate,
With kids on digital devices and screens more than ever, it's important to protect their eyes from the dangers of blue light. Studies have shown that excess blue light from digital screens and artificial lighting can cause eyestrain, headaches, blurred vision, dry eyes, and interrupted sleep. Zenni offers /blokz-blue-light-glasses">Blokz™ Trivex®, which is a superior impact-resistance lens designed for all-day wear and protection from blue light, as well as UV rays emitted from the sun.

UV Protection Is Important
As we all know, protecting young eyes from harsh UV rays is a must. Rest assured that all Zenni lenses come with UV protection, regardless of tint. But if your child is going to need prescription lenses, why not have them serve a dual purpose and be sunglasses too?
When it comes to ease and functionality, a popular lens option for kids are photochromic lenses. These lenses automatically transition from clear indoors to tinted sunglasses outdoors so there's no need to worry about your child switching between two pairs of glasses.

Back-Up Pair, Please! 
A word to the wise: always have a back-up pair of prescription glasses for emergencies. Even the strongest materials can break at times and as we all know, accidents do happen. If your child loses or breaks their frames, you'll be thankful for that back-up pair!  Zenni's affordable eyewear makes it possible to own multiple pairs of glasses without breaking the bank. 
You're now more than equipped to shop for your child's new glasses. So grab your kid, head over to /kids-glasses">Zenni, and have a blast picking out their new favorite glasses.