Jennifer Aniston's Perfect Style
Many people would agree that Jennifer Aniston has mastered the fashion art of managing to look perfectly natural. Her famous hair is usually left long and simple even in an evening gown, which is also typically long and simple in style.
For day, Jennifer wears a lot of neutral colors and denim along with boots or strappy heels, scarves, a few jewelry pieces and classic eyewear. This actress knows how to put all these pieces together to make her always look her best.
Jen's Geek Chic
Geek chic is trending now and Jennifer Aniston wears this look so darn well. She has several large pairs of frames in the popularly nerdy Buddy Holly style, but they aren't black. Maybe that would be too harsh with her blonde locks, but in any cases Jennifer has nailed the right colors for her in darker reddish-brown frames as well as a pair of lighter brown tortoiseshell eyeglasses.
When she wears either pair of this eyewear with a white blouse she can look stylishly geeky, but she also combines nerdy and cool very well by adding jeans and a black leather jacket.
Top Mob Gun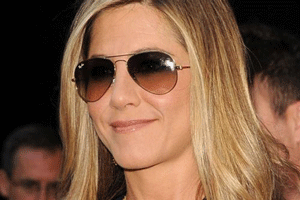 We love Jennifer's pairing of silver-rimmed aviators with a black fedora. These accessories, along with her pretty blond hair showing, aren't too masculine in the least, but instead provide an attractive edge to her femininity. Girl, er, woman power!
To A 'T'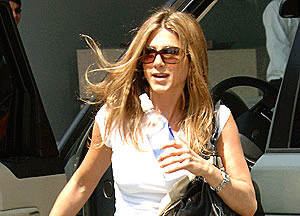 Jennifer Aniston can take even a plain, white t-shirt and make it stylish. She's been spotted wearing this wardrobe staple with Tom Ford Whitney sunglasses and a long gray scarf wrapped and draped flatteringly around her neck and shoulders.  To complete the casual style, Jennifer may add jeans and a brown leather belt.
Hip To Be Square
A plain, square-necked, black tank top gets the glam-casual treatment when Jennifer adds Tom Whitney sunglasses and easy-fitting, light tan pants.
The TV and movie star has been filmed walking through LA many times in this kind of outfit. Unlike some big name stars, Jennifer isn't afraid to wear canvas flats for walking although she'll switch them for wedgies or strappy heels for just hanging out.
Red Hot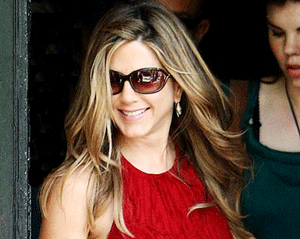 For special events or evenings out, Jennifer Aniston is able to go from casual to dressy in a flash. Although many of her dresses are in neutrals, she'll occasionally wear a stunning color like hot red.
We love the high-necked, long, red, snug gown with the strappy back that Jennifer has been seen wearing with silver shoes and oval-framed eyelasses. The glasses have classy metal accents on the bridge and sides which are perfect for dress up.
Little Black Dress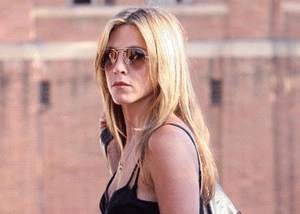 We would have never thought of pairing a little black, sleeveless, scoop-necked dress with silver-rimmed aviator sunglasses, but this looks classically cool on Jennifer Aniston — that's for sure. Silver-colored shoes and one silver bangle complete this smart, understated Hollywood outfit.
Wayfarers On
Sure, many people, stars included, look great in 80s retro Ray-Ban Wafarers and these black sunglasses just make Jennifer look even more timeless and beautiful.  These eyewear gems seem to sparkle on her whether she's wearing shorts or a dress.
High Degree Of Difficulty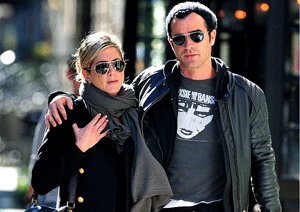 It shouldn't be surprising that the contemporary pairing of shorts and suede boots looks better on Jennifer Aniston that many stars. It's not easy to make this appear classy, but somehow Jennifer pulls it off.
Maybe it's because she typically sticks to neutral colors and layers shirts and scarves and tucks slim white pants into the knee high boots for a smart look. Finishing this off with aviator sunglasses and a big, slouchy bag, Jennifer Aniston can stylishly trek around L.A.
It will be fun to see which new eyewear and ready to wear clothing combinations Jennifer Aniston wears next!