Make a Fashion Statement with Glasses
My glasses are arguably the most enviable accessory in my closet and give my outfits the perfect accent. I used to have 20/20 vision, and then my eyesight suddenly betrayed me at age 40. First, I was holding my phone about a foot away just to make out a text message, and then –BOOM– I couldn't even read a menu. Alas, now reading glasses have become a big part of my life. People stop me all the time to tell me how much they love them (I suspect they think I'm wearing them for vanity, but that's another story) I know that they're a real "fashion" choice and, by that, I mean they make a statement. I often get complimented on them, and have had people literally stop me on the street to ask me where I get them from. I wear them all year long, but with the shift in the season, I'm hankering for some cool new eyewear to go with my updated cold-weather finds.
Right now, I am into something a little collegiate, preppy, and cool, which can make any kind of classic get-up look a little more "now." Of course, the big question is how do you find the right glasses for you? It took me over a decade to find mine, but now I'm hoping to impart a bit of knowledge on how to discover your ideal frames. And because we all have different faces, moods, and personal styles, in the end it's always going to be about your personality and what you love. Just as you choose a piece of clothing because it speaks to your personal style, the same goes for glasses. Wear what you want to wear. For me, I always look for a shape where my eyebrows appear over my frames. Otherwise they can look a bit odd on me.
I've done a deep dive at Zenni to find lots of shapes, sizes, and vibes. Did I mention the prices are great too? Before I introduce you to my frames, allow me to introduce myself:
Hi, my name is Roz Kaur ( pronounced 'core'). I am a stylist, as well as a diversity and pro-age activist who has been working in the fashion industry for over 30 years, teaching women how to develop and maintain their authentic personal style.
My Instagram @roz_creativestylist is a place for inspiration and creativity, with a focus on positive aging. I consider styling an art form. My clothes, how I mix them up and experiment with them, are an extension of who I am on the inside. The same stands true for my glasses. I love to wear them with long dresses for special occasions, as well as more casual pieces, proving that glasses are very much a fashion statement.
To me, great style is all about the juxtaposition. It's about interesting layering and proportioning. Over the years my Instagram has become synonymous with thick-rimmed, oversized glasses, and super short hair.
My self-described style is "undone glamor," with an emphasis on "undone." I love good clothes and fun shapes, but somehow never look too put together. You can't have perfect hair, clothes, and makeup — you need an element of imperfection to make you feel like there's a person behind it all. I am most comfortable that way and, in fact, I've become more casual as I've gotten older. Whether I'm dressing up or down, I try for a mix of the 3 Cs: classic/casual/cool. I'm not into trends, I'm into timeless pieces. I am not into quantity, I am into quality and cost per wear.
I believe accessories make the woman. It's no secret that my accessory of choice is my reading glasses. It's actually surreal that the minute I put them on they make my outfit say something completely different than what it said a minute before! So amp up your outfit with these impression-making extras.
Now, allow me to introduce you to the frames. Meet them, see which ones you relate to, and then give them a try. I've shared some of my unconventional tips on how I style my outfits around my "EXTRAS."
CLEAR
When I'm in a collegiate mood, I don a clear frame. I start with a cream ribbed turtleneck layered with a preppy ski sweater, classic brown oxfords with some fun socks, an easy cross-body bag, and some off-white jeans (I don't care about post-Labor Day rules, or any hard-and-fast fashion rules, for that matter). Right before I dash out the door, I throw on a plaid coat (there is just something so perfectly 'British dandy' about plaid outerwear!), an oversized scarf, a beanie, and an extra large tote (always!!!). As much as I would love to be one of those French women who just carry a tiny little crossbody just big enough for a credit card and lip balm, I, like most of us, am usually lugging around a day's worth of junk. So it's all about a big bag for me.
AVIATOR
For a super cool everyday look, I love to wear my aviators. I am a big believer in having a uniform. A blazer with jeans has been mine for years. I start with a classic navy double-breasted blazer, then add a dark denim shirt, complete with snaps and a cowboy yoke, with a ribbed cotton long-sleeve tee (so I can open the buttons a little), good flare jeans, a brown belt, my favorite heels (since they give me legs for days), and my classic saddle bag. For the added cool factor, I just shrug on an oversized faux suede shearling-lined coat that makes everything I'm wearing look a little edgy and totally chic. A Parisian oversized tote, a gigantic scarf, and my cool baseball hat are my current go-to street-style accessories!
OVERSIZED
On most days you'll find me in oversized glasses. With each passing year, I delve a little deeper into the late '70s vibe I love so dearly. This shape is so fun, you'll catch me wearing these on most days as I love the look of them. My style is constantly changing based on my eclectic shopping habits, and lately I've been feeling somewhere between collegiate/preppy and casual/cool "girly tomboy." You'll find me wearing my oversized chinos, striped French cuff button-down, my lady jacket, socks with loafers, and a beret. To break it up, I've been wearing my army green military-inspired trench on repeat. I love how it gives the whole look an injection of effortless high/low dressing we all so love. I rarely leave the house these days without my oversized scarf, my Clare V pouch, and my striped Clare V carryall, which not only has the perfect 'cool French girl' vibe, but is also ideal for lugging around a lot of stuff.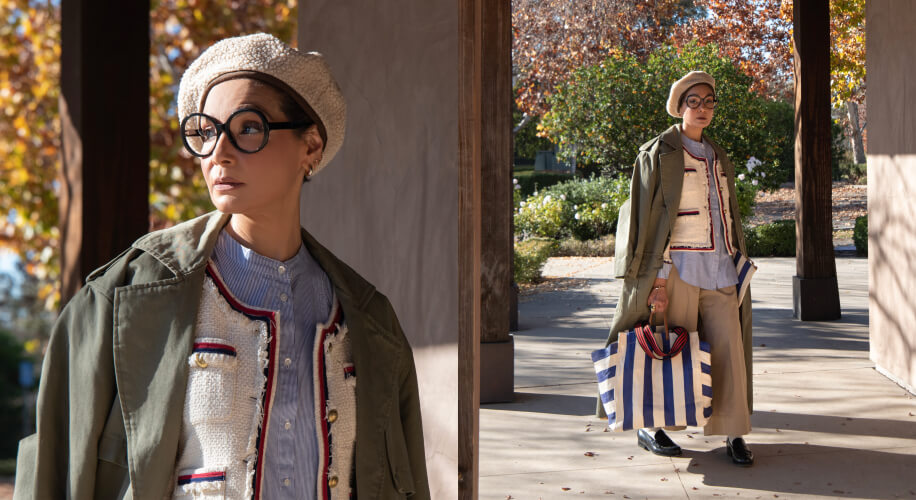 By sharing my style and images online, the message I like to send my followers is:
Celebrate authenticity and individuality.
Be fashion-driven and cool while remaining joyful, warm, and approachable.
Treasure taste and quality.
Create looks that are effortless, modern, and functional, since many of us live multifaceted and dynamic lives.
Delight your followers.
Think unconventionally and make thoughtful decisions.
I think we all might have a life lesson here that we can put into action for practically everything in our multifaceted lives. Each of these values can be applied to personal style, business, creativity, relationship, parenting, life… Thank you for reading! I hope you learned something and please follow my IG* for more fashion stylist advice featuring eyewear and other accessories!