Suns Out: Time to Clip-On Your Polarized Sun Shades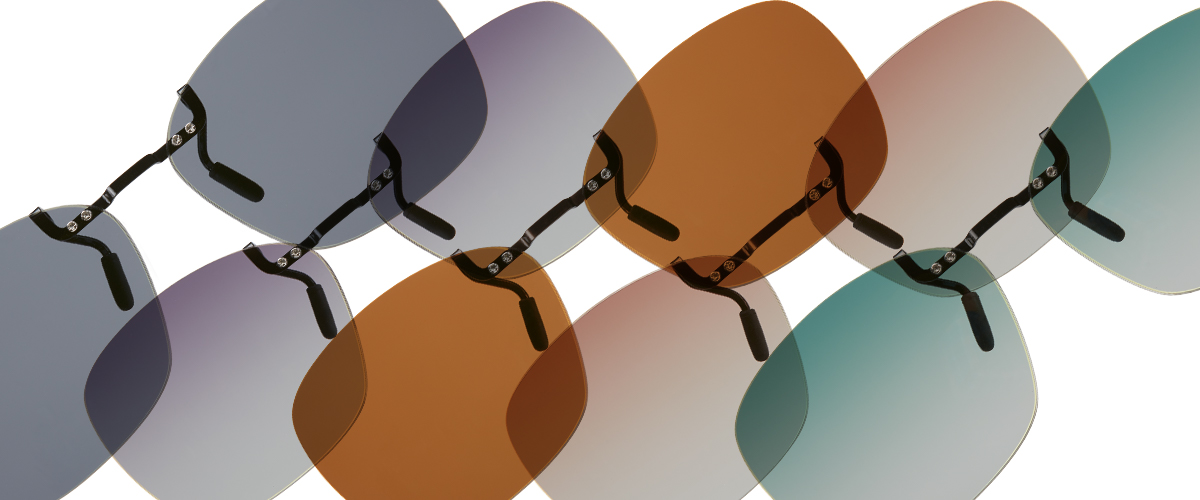 Have you tried clip-on glasses  (also known as sun shade glasses) yet?  They're great if you don't want to carry two pairs of prescription frames with you for inside and outside. Plus, sometimes your glasses are just so on-point you don't want to ruin your look with sunglasses.
Polarized Sunglass Clip-Ons
At Zenni, you can add-on polarized sun lenses for almost every style of frames on our site.  Just enter your frame number into our "Clip-On Finder" to check availability.  Each pair of clip-ons is custom-cut to the shape of your frames for a perfect fit.
We also offer 3D movie clip-ons to enjoy the comfort of your own glasses in 3D movie theaters and night-driving clip-ons to help improve visibility while you're on the road at night.
Classic Vs. Gradient 
Our sunglass clip-ons come in two options: classic and gradient. Both are polarized to help reduce glare and are extremely effective in conditions of intense sunlight. Classic clip-ons have a solid color from top to bottom and are sold in gray or amber.  Gradient clip-ons, available in green, gray, or amber, are darker at the top and gradually become less tinted at the bottom.
The Best Frames for Clip-Ons
Vintage Cat-Eye Frames
Classic Aviators:  The lightweight metal alloy frame allows the clip-on sunglasses to slide on effortlessly.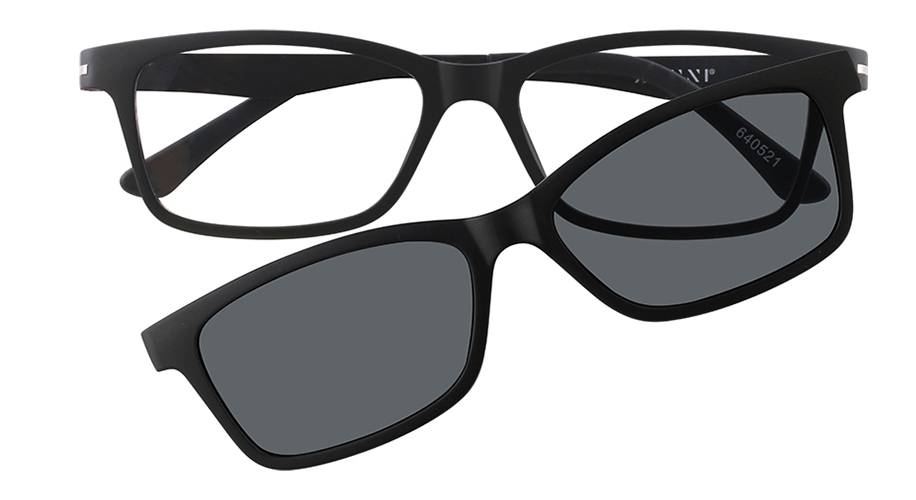 Full-Rim Rectangular Frames: Always a classic look, the rectangular shape provides great coverage and style when you add your sun shades.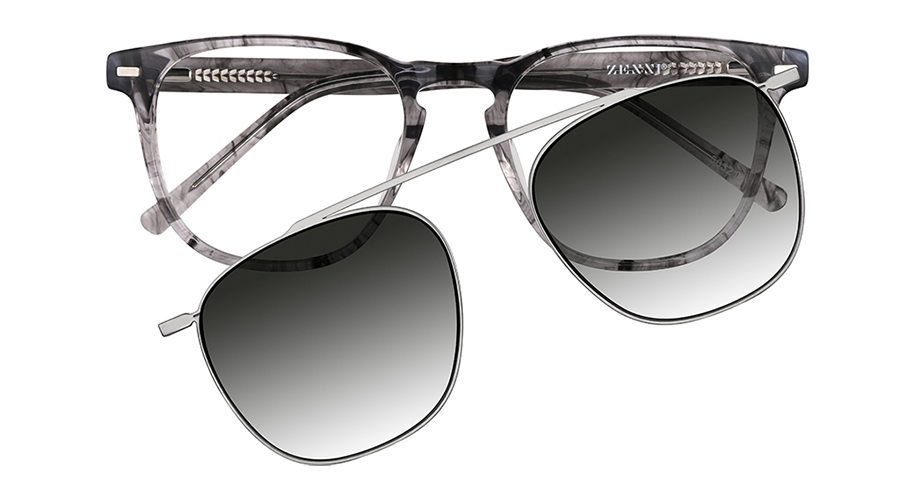 Square Frames:  Square glasses are a perfect fit for custom clip ons custom clip-ons . Try a woodgrain design to add a modern twist.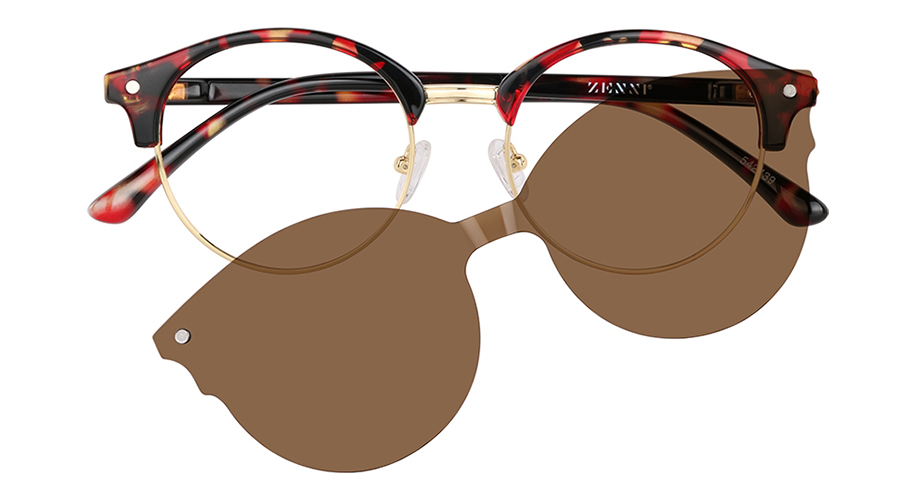 Browline Frames: Available in a wide range of colors to match your every look, clip-ons work great with this popular style.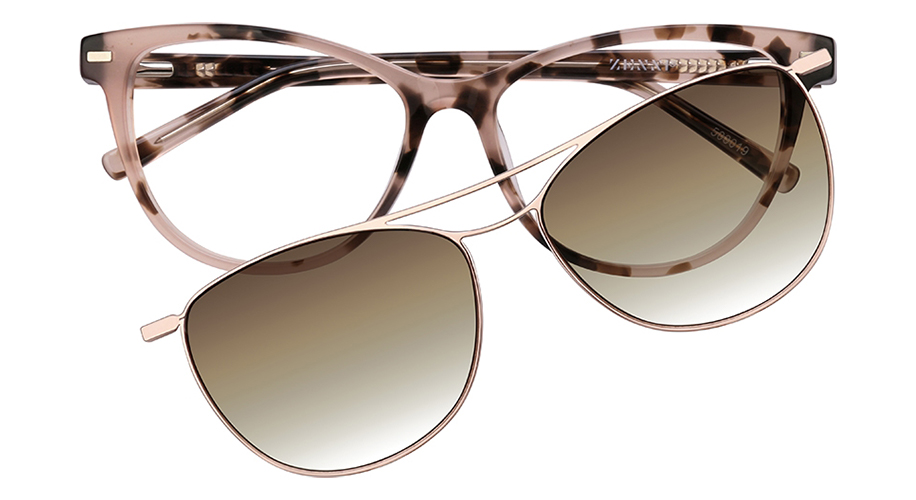 Vintage Cat-Eye Frames:  Our modern sun shades clip on smoothly to cat-eyes without adding extra bulk.
How to Order Clip-Ons From Zenni
Follow these steps to add your favorite polarized clip-on sunglasses to your new Zenni frames:
Choose your new frames. Be sure to check whether clip-ons are available for your selected frames by using our Clip-On Finder.
Enter your prescription information. You'll need your current prescription and pupillary distance (PD).  If you don't know your PD, use our infographic to help measure your pd at home.
Choose your lens options. Enter the index and type of lens that you want to go with your frames.
Select your clip-on preference. Choose between polarized sunglasses (in solid or gradient), night driving, or 3D movie clip-ons. All options range from just $3.95 to $5.95.
Personalize your glasses. Add extra personality to your new frames with custom engraving on the temple arm.
Check out.  Double-check your payment information and your shipping address so that we can get your Zenni frames to you quickly.
Order your custom clip-on sun shades today and tag them on Instagram #justgotmyzennis.