Rectangle Sunglasses – An All Time Classic
When it comes to eyewear choices, the importance of style and protection can never be overstated. A perennial favorite among these is the classic rectangle sunglasses. These timeless pieces effortlessly blend functionality with a universally flattering design, making them a staple in everyone's accessory collection.
Why Rectangle Sunglasses?
The popularity of rectangle sunglasses is not without reason. These shades offer several benefits that make them a go-to choice for both eyewear experts and style enthusiasts alike.
Universally Flattering: One of the main reasons why rectangle sunglasses have remained a popular choice over the years is their ability to complement most face shapes. Whether you have an oval, square, or heart-shaped face, rectangle sunglasses are sure to enhance your features and add a stylish touch to your look.
Versatile: Whether you're aiming for a cool, casual look with cool glasses or adding a touch of sophistication with designer sunglasses, rectangle frames can be your perfect partner. They can easily transition from a beach day to a business meeting, ensuring you always look your best.
Protective: Rectangle sunglasses, especially those with polarized lenses, offer excellent protection against harmful UV rays. You can opt for men's polarized sunglasses or women's polarized sunglasses for optimal eye protection.
Trending Styles in Rectangle Sunglasses
While the classic rectangle frame remains a timeless choice, there are countless variations that have emerged over the years. Here are some popular styles that have caught the fashion world's attention:
Oversized Rectangle Sunglasses: These are the ultimate statement-makers. Oversized sunglasses with rectangle frames offer a celebrity-like appeal and add a dramatic flair to any outfit.
Clear Frame Rectangle Sunglasses: For a modern, minimalist look, opt for clear frame glasses with a rectangle shape. These glasses bring a fresh, contemporary vibe while maintaining the classic rectangle silhouette.
Thin Frame Rectangle Sunglasses: If you prefer a more subtle style, thin frame glasses with rectangle lenses are an excellent choice. These shades offer a sleek, sophisticated aesthetic that's perfect for formal occasions.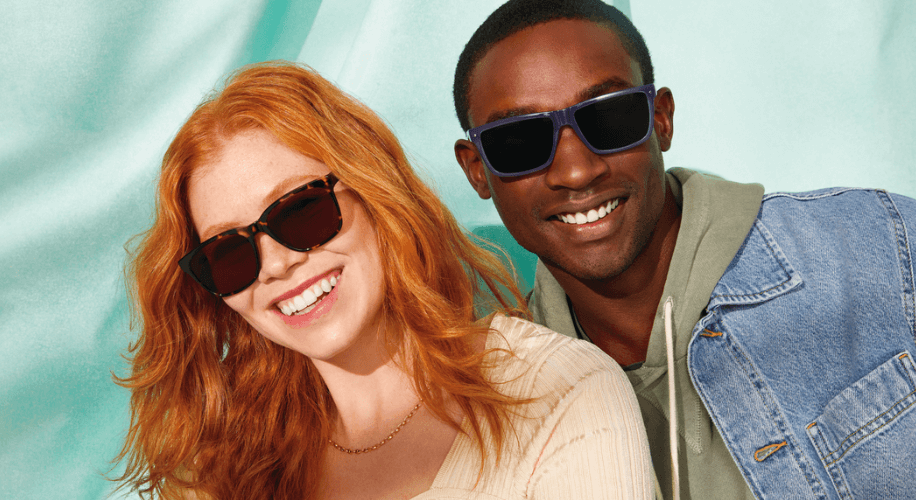 Choosing the Right Rectangle Sunglasses
With the vast selection of rectangle sunglasses available, choosing the perfect pair can seem daunting. But fear not, we have some tips to guide you through the process:
Identify Your Face Shape: While rectangle sunglasses are versatile and suit most face shapes, knowing your face shape can help you pick a frame that best accentuates your features.
Consider Your Lifestyle: If you spend a lot of time outdoors, consider prescription sunglasses with rectangle frames for maximum UV protection. For the fashion-forward, designer or colored frames like orange sunglasses can add a pop of color to your outfit.
Budget: Whether you're looking for high-end designer styles or cheap sunglasses, you're sure to find rectangle frames that fit your budget. Always remember, style and protection need not be expensive.
In the world of eyewear, rectangle sunglasses truly are an all-time classic. So, whether you're upgrading your eyewear collection or buying your first pair, make sure to consider these versatile, stylish, and protective frames.