Hispanic Heritage Month: Celebrating Top-Notch Latinx Optometrists
For Hispanic Heritage Month, we want to take the opportunity to highlight and celebrate some truly amazing Latinx optometrists who dedicate their careers to advance the optometric profession and help both underserved and minority communities.
In addition to improving eye care for all and shortening the gaps of health inequity, their mentorship to the younger generation of future ODs is both admirable and commendable. For Latinx optometric students, it is incredibly meaningful to see optometrists who look like them, speak the same language as them, and share the same passion and dedication to their Latinx heritage and communities.
We thank them for being pioneers and trailblazers, and we hope Latinx optometry students are able to follow their paths but eventually break out to start their own ventures in support of their future diverse patients.

Dr. Vitto Mena graduated from the Pennsylvania College of Optometry at Salus University in 2014, and is currently the Sports Vision Director at Optical Academy. He is also heavily involved in the Special Olympics Lions Club International Opening Eyes Program and is serving as their Co-Clinical director. Dr. Mena has earned a number of accolades these past few years, such as NJ Young Optometrist of the Year and the Public Service Award.
Dr. Mena is a rockstar in the optometric industry as well as an amazing networker who enjoys mentoring optometric students! I first met him at the Vision Expo East conference in New York, where he spoke on a Young OD panel at the Career Zone Student Lounge. A few months later, I ran into him at the AOA Optometry's Meeting, where he established himself as a finance guru and led a session about investing and staying out of debt.
He has taken a special interest in mentoring me, and I'm excited to collaborate with him to make financial literacy more accessible to optometry students.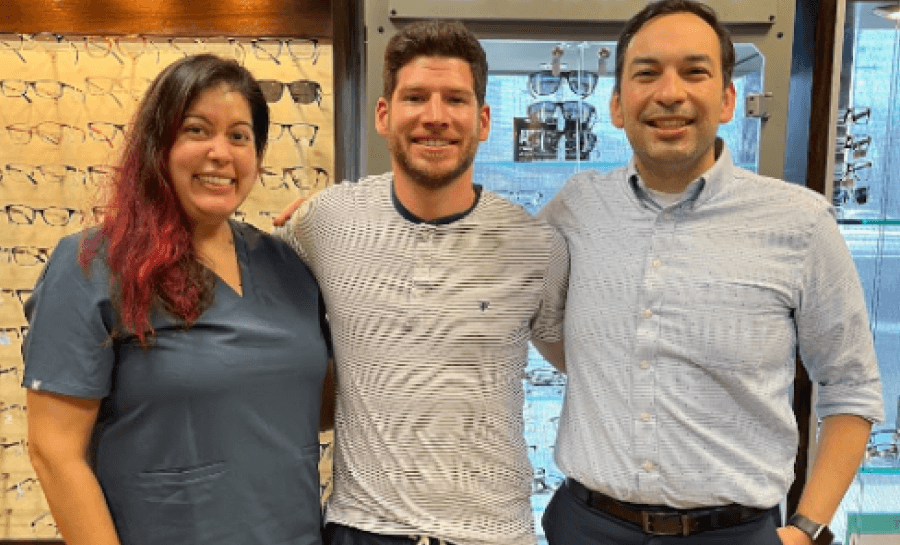 Dr. Fabian Corona graduated from the Southern California College of Optometry at Marshall B. Ketchum University, and he also received his Master of Science in Global Medicine from the University of Southern California. He has volunteered abroad in Peru and Fiji, but he also gives back locally to his community in LA through volunteering at the Special Olympics and vision screenings for local school districts. Dr. Corona was awarded CA Young Optometrist of the Year and is a past-president of the Rio Hondo Optometric Society.
I was inspired by Dr. Corona when I learned that he returned to his hometown to serve his community in South Gate, CA. We first crossed paths when I was raising funds to help send some of my classmates to Academy, an optometry conference. Not only was he generous, he also agreed to meet virtually with a small, intimate group of Latinx students at Berkeley Optometry to get to know us and motivate us. To this day, he continues to serve as a resource for our diverse group of students.
We are excited to plan more virtual meet and greet sessions with him and our growing community of Latinx students at Berkeley Optometry.
Dr. Marilyn Hernandez was Dr. Corona's classmate at the Southern California College of Optometry at Marshall B. Ketchum University, and they both practice at the same clinic in South Gate, CA. She completed a residency in Ocular Disease and Primary Eye Care in Arizona, where she helped deliver eye care to a large Native American population. As a student, she showed an early interest in using her Spanish to serve Hispanic patients, and she eventually served as president of the Spanish Optometric Society. Dr. Hernandez also has volunteered abroad and has visited Fiji and El Salvador to provide eye care to hundreds of underserved community members.
Dr. Corona introduced me to Dr. Hernandez this summer when I came to visit their practice, and I was so impressed at her dedication to her community. She would weave in Spanish words into our conversation, and I could tell how proud she was to use her language abilities with her patients. She was featured twice in Untold Healthcare, a podcast that lends a voice to heroes who improve health for our most vulnerable. She spoke on the lack of awareness of eye health and the overall prevalence for visual impairment in the Latinx community, which is at higher risk for diabetic retinopathy, a leading cause of vision loss and blindness.
I'm looking forward to connecting this powerful Latina leader in optometry to inspire more Latinx optometry students!

Dr. Diana Canto-Sims graduated from the Inter American University of Puerto Rico School of Optometry in 1998, and in 2019, she participated in the Latino Business Network scaling program at Stanford Graduate Business School. She runs her own private practice in Chicago, and is a founder of La Vida Eyewear, a collection that embraces diversity and inclusion by offering frame styles that appeal to Latinx, indigenous and people of color.
My mentors from the Black Eyecare Perspective connected me with Dr. Canto-Sims because she was starting LEO (Latinos/a/x En Optometry), a professional organization that many Latinx students have been anxiously asking for. We first met and connected in New York City at the Vision Expo East, and it has been wonderful to see her participate in numerous diversity panels virtually and at conferences.
While LEO is still in its infancy, I expect to witness hyper growth under Dr. Canto-Sims' leadership, and look forward to lending her my support to capture, engage, and retain more Latinx students in this profession.

Dr. Vincente Calderón graduated from the Inter American University Puerto Rico School of Optometry in 2007, and is one of few native latino optometrists practicing in New York. After witnessing the inadequate eye care minorities were receiving in the Bronx and surrounding areas, he helped to create iCare & Eyewear, a practice in the heart of the Bronx. Soon after graduating, he created a successful business Aspire Healthcare Solutions, which is deemed the "original Diabetic Eye Care Solution". Through this at-home eye care business, they are able to see patients all over the tristate area and provide comprehensive at-home eye care and glasses with and without insurance.
I met Dr. Calderon when he was speaking on a Young ODs panel in New York at Vision Expo East. It was very inspiring to meet a Latinx entrepreneur who saw a gap in eye care in his community and had the passion and dedication to build something from the ground up to develop a solution. He likes to remind his patients that he promises to always give them the kind of eye care he expects someone to give his abuela (grandmother).
I'm so excited for young Latinx students and optometrists to learn from his drive and seek out his mentorship when thinking of innovative ways to increase care to underserved patients.

Dr. Edward Hernandez graduated from the Indiana University School of Optometry. He is a shining example of an optometrist who returned to his hometown, La Puente, CA, to serve his community. If being an eye care practitioner wasn't enough, Dr. Hernandez also served as a California State Senator, where he played a key role in setting health policy for the state and expanding the optometric scope of practice in California. In the past, he was named CA Young Optometrist of the Year and Key Person of the Year by CAL-OPAC. In addition, he served as the Past President of the California Optometric Association and the Past President of the State Board of Optometry.
I heard Dr. Hernandez speak at the National Optometric Convention in Anaheim, CA, and I was so impressed to hear his long trajectory and involvement in advancing eye care for his patients. On a trip to SoCal, I reached out and visited his practice to absorb as much as I could from him and his many experiences throughout his career. I learned about his guidance, mentorship and generous disbursement of scholarships to Latinx optometric students at the Western University of Health Science College of Optometry, and the impact the Dr. Edward Hernandez Endowed Scholarship had on those students.
The optometric profession owes so much to Dr. Hernandez's leadership and we also look forward to inviting him soon to Berkeley Optometry to virtually meet our latinx students!
Baldemar Torres earned his undergraduate degree from Stanford University and is currently pursuing his optometry degree at the University of California Berkeley School of Optometry. He is a Trustee-Elect for the American Student Optometric Association, where he also serves as the lead for the Diversity, Equity and Inclusion interest group.