The Impact of Black Optometrists on the Eyecare Industry
The last time you visited an optometrist, what was their racial or ethnic background? When we look at the data, the chances of them being Black are actually highly unlikely. Less than 2% of practicing optometrists are Black or African American, even though Blacks and African Americans make up 13% of the US population.
Why should we all care? The answer is health equity. Everyone (no matter their background) deserves equal access to quality eyecare. Research has shown that in the US having a doctor that looks like you not only increases the quality of the care you receive, in many cases it may even save your life or preserve your sight. If it's still not clear to you why we should all care, I'll pose a question: Wouldn't you feel safer if you had the assurance that everyone you share the road with on your daily commute were wearing their most up-to-date, correct prescription?
You see, in eyecare, when each of us is able to see clearly individually, we all win.
With all this in mind, Dr. Adam Ramsey and Dr. Darryl Glover founded Black EyeCare Perspective (BEP) in 2018 in an effort to diversify the eyecare industry.
Their vision was to create a pipeline for Black students to get into optometry, connect communities with Black eyecare professionals, and cultivate relationships between Black Doctors of Optometry and opportunities in the eyecare industry. BEP's website even includes a Black Eye Doctor Locator to help Black communities find a Black licensed optometrist or ophthalmologist near them.
It is evident that our country needs more diverse doctors who are culturally competent to address and eliminate disparities and bias, which is how Black EyeCare Perspective Pre-Optometry Club was born from BEP. Thanks to Dr Essence Johnson, BEP's Chief Visionary Officer, and Dr Jacobi Cleaver, BEP's Director of Program Management, almost 150 Black and African American students from over 50 universities are receiving the mentorship, support, and the resources they need to be successful in their pursuit of a career in optometry.
They have all served as excellent mentors to me and many other minority optometric students around the country, and they've always reminded me that "if you can see it, you can be it!"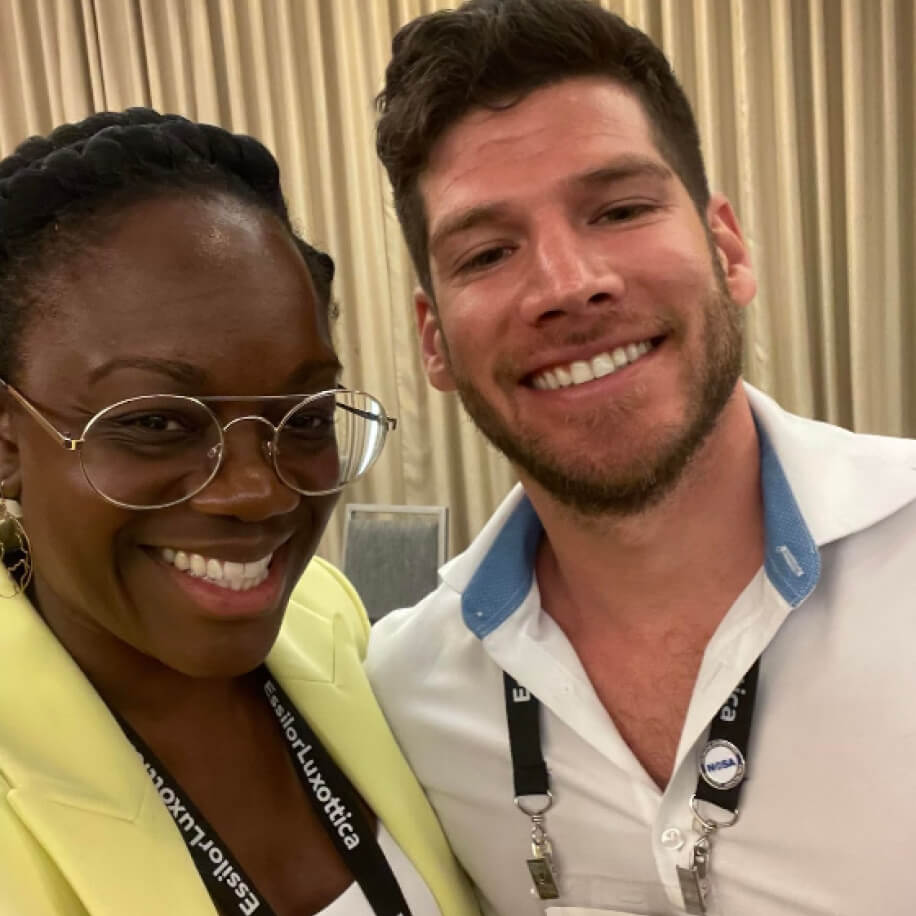 Baldemar and Dr. Essence Johnson, OD, FAAO, Dipl ABO
As Black EyeCare Perspective continues to grow, so does their impact on the eyecare industry and all our communities. In their efforts to recruit more future doctors of optometry, they are playing a pivotal role in increasing awareness in our diverse communities about the importance of seeing clearly and getting regular checkups.
Congratulations Black EyeCare Perspective on your hard work. Here at Zenni we want to recognize and celebrate your dedication to diversifying the eyecare industry. Whenever your initiatives take off and you reach new milestones, we're all winning with you!
Baldemar Torres earned his undergraduate degree from Stanford University and is currently pursuing his optometry degree at the University of California Berkeley School of Optometry. He is a Trustee-Elect for the American Student Optometric Association, where he also serves as the lead for the Diversity, Equity and Inclusion interest group.