Rapid Fire Questions with the San Francisco 49ers
The San Francisco 49ers are known for their impressive performance on the field, but have you ever wondered what eyewear they choose off the gridiron? In a recent YouTube Shorts video, "Rapid Fire Questions with 49ers," we got a glimpse of some of their eyewear choices, including Zenni Optical frames. Let's take a closer look at the eyewear sported by these NFL stars and explore the style and functionality they bring to the game.
George Kittle Wearing Aviators with Blokz Plus Lenses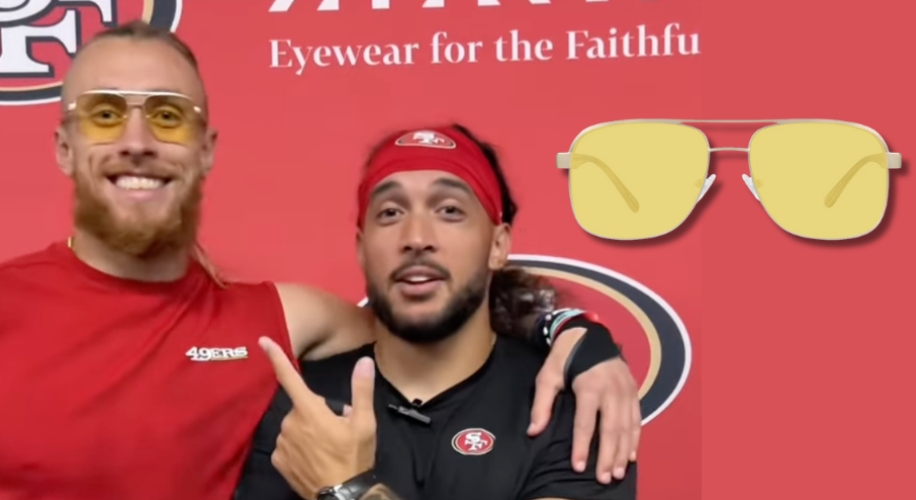 In a standout moment from the video, the talented George Kittle, renowned for his extraordinary on-field skills and fashionable eyewear choices, was spotted donning the Aviator Glasses with Blokz Plus lenses. This style not only exudes a cool and fashionable vibe but also offers exceptional blue light protection. The Blokz Plus lens is a part of our Blokz blue light blocking lens suite, featuring a special yellow lens designed with blue light blocking polymers that go the extra mile in shielding against harmful blue light, particularly from screens. Whether he's reviewing game footage, studying playbooks on a tablet, or casually scrolling through his phone, George recognizes the importance of safeguarding his eyes from the potential harm caused by blue light. With Zenni's Blokz Plus, he not only secures the protection he requires but also makes a bold and stylish statement.
Shop Aviator Glasses and learn more about Blokz Plus
49er Players Rocking Sports Shield Sunglasses
George Kittle isn't the sole 49er player making a striking fashion statement with Zenni eyewear. In the same video, we witness other team members proudly donning the Sports Shield Sunglasses, showcasing their unique style and the versatility of these frames. Whether they're jet skiing, attending music festivals, or simply basking in the sun during their leisure time, these oversized aviator sunglasses effortlessly combine both fashion and functionality. Crafted from flexible TR90 plastic, these sporty frames feature slender, aerodynamic temple arms that not only exude style but also provide a secure and comfortable fit. The addition of slip-resistant temple tips and a nose bridge further enhances the practicality of these sunglasses, making them an ideal choice for athletes and individuals leading an active lifestyle.
The San Francisco 49ers are not just football legends; they're also setting trends with their eyewear choices. From George Kittle's Blokz Plus Aviator Glasses, which offer top-notch blue light protection, to other 49er players rocking the Sports Shield Sunglasses, it's clear that Zenni Optical frames are making a statement both on and off the field. So, if you're looking for eyewear that combines style, functionality, and top-notch eye protection, take a page out of the 49ers' playbook and explore Zenni's collection. Your eyes and fashion sense will thank you!
Shop The Kittles x Zenni Collection and Athleisure Sports Sunglasses

Dr. Sophia Moh, OD, is an optometrist based in the Bay Area, California. She holds a doctorate from UC Berkeley School of Optometry and has worked in various eye care settings, including primary care optometry, general ophthalmology, community health clinics, and Veterans Affairs. Dr. Moh is dedicated to improving global vision health by making high-quality, affordable eyewear accessible to all. She is also a certified American Board Optician (ABO) and actively contributes to optical education through training and lectures.