The Best Places to Buy Glasses Online
When it comes to shopping for eyewear, the digital world offers a multitude of choices. From prescription eyeglasses to stylish sunglasses, there are online providers to cater to every need, taste, and budget. Whether you're looking for a trendy cat eye sunglasses for a fashion statement or blue light computer glasses to protect your eyes during long hours in front of the screen, you can find it all online. This guide will introduce you to some of the best places to buy glasses online.
Zenni Optical
A leading contender in online eyewear, Zenni Optical is renowned for its vast range of affordable, high-quality glasses. With a wide array of designer men's glasses and aviator sunglasses for men, as well as pink sunglasses and heart sunglasses for women, Zenni Optical caters for every fashion and functional need. It's no wonder they have been in business over 20 years.
One of the highlights of shopping with Zenni Optical is the ease of searching through their extensive selection. From glasses that suit your face shape to glasses categorized by color in the shop by color section, and the ability to search any picture of glasses with their visual search feature, finding the perfect pair of glasses has never been easier. They offer a full refund within 14 days of receipt or store credit within 30 days, alleviating any worry you may have about choosing eyewear online.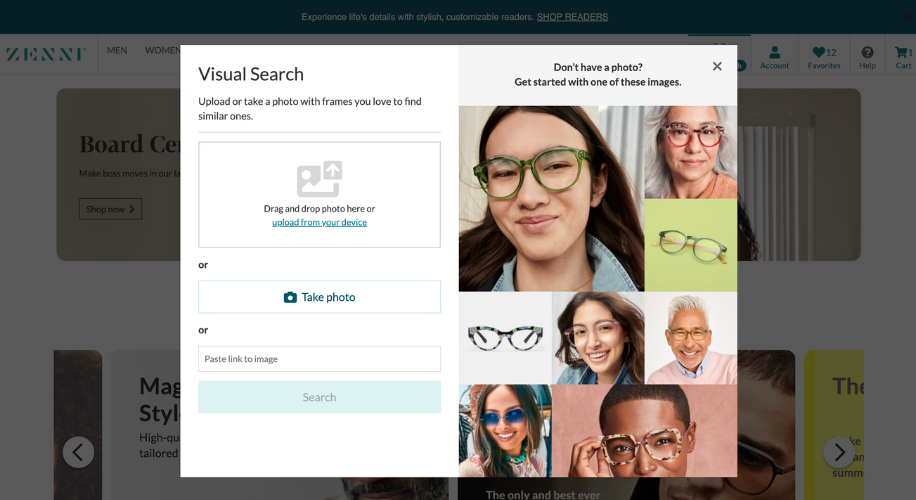 Value and Variety
Zenni Optical offers glasses at various price points, including an impressive range of glasses under $30. Their selection also includes:
Reading glasses: From simple over the counter readers to premium progressive reading glasses.
Prescription glasses: Including prescription sunglasses for men and women.
Specialty eyewear: Such as sports sunglasses, ANSI safety glasses, and protective goggles.
Blue Light Glasses: Blokz lenses which, unlike competitors, is baked within the lens vs being a coating that can wear off and scratch over time.
One click non prescription sunglasses: Non prescription sunglasses have never been easier to shop for with one click to cart options
Migraine Lenses: Backed by research FL-41 lenses reduce migraines
Complete pair of prescription glasses starting at $6.95
Warby Parker
Another popular destination for online eyewear shopping is Warby Parker. Known for their high-quality designer glasses, Warby Parker offers both prescription and non-prescription glasses. Their stylish range includes everything from aviator sunglasses to hipster glasses and even colored glasses.
What sets Warby Parker apart is their home try-on program. You can select up to five frames to try at home for free, making it easier to find the perfect fit and style without leaving the comfort of your home.
Socially Conscious Shopping
When you buy with Warby Parker, you aren't just getting a trendy pair of glasses. You're also supporting a company that gives back. For every pair of glasses sold, a pair is distributed to someone in need.
Complete pair of prescription eyeglasses starting at $95
Eyebuydirect
Eyebuydirect is another excellent place to buy glasses online. Known for their affordability, Eyebuydirect offers a range of eyewear, including full rim glasses, frameless glasses, and colored sunglasses. They also offer a range of materials for their frames, such as metal, plastic, and even wood.
They offer a 14-day fit and style guarantee, which means if you're not completely satisfied with your glasses, you can return them for a full refund or exchange.
Customizing Your Glasses
At Eyebuydirect, you can customize your glasses to suit your needs. You can add features like blue light blocking, anti-scratch, and water repellent coatings. You can also choose from a range of lens types, including single vision, bifocal, and progressive lenses.
Buying glasses online has never been easier or more affordable. With a wide variety of styles, prices, and custom options available, you're sure to find the perfect pair of glasses to suit your needs and lifestyle.
Complete pair of prescription eyeglasses starting at $12.95