Learn the difference between bifocals and progressives from the pros at Zenni Optical.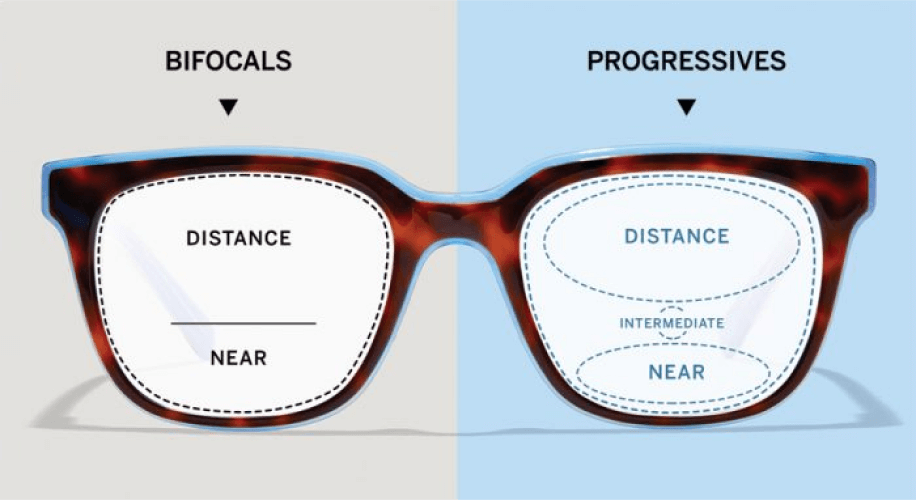 What Are Bifocals?
Bifocals are glasses that have two viewing zones separated by a visible line – traditionally, a larger viewing area for distance and a smaller area for reading.
What Are Progressive Lenses?
Progressive Lenses are no-line multifocal lenses with up to 3 viewing zones for distance, intermediate, and near vision.
Here at Zenni, we offer 2 all-purpose, digital free-form progressive lenses: Standard and Premium.
Both of our progressive designs include a scratch-resistant coating and UV Protection. They are fully customizable and can include Blokz® Blue Light Glasses and Transitions lenses. You can also order your polarized sunglasses with progressive lenses to give you clear vision while protecting your eyes from the sun.
Our Standard Progressive Lenses start at $37.95. They offer a comfortable, balanced view and easy adaptation between the 3 viewing zones. Our Premium Progressive Lenses start at $52.95. They offer up to a 40% wider view than our Standard progressive lenses allowing for maximum comfort and quicker adaptation between viewing zones.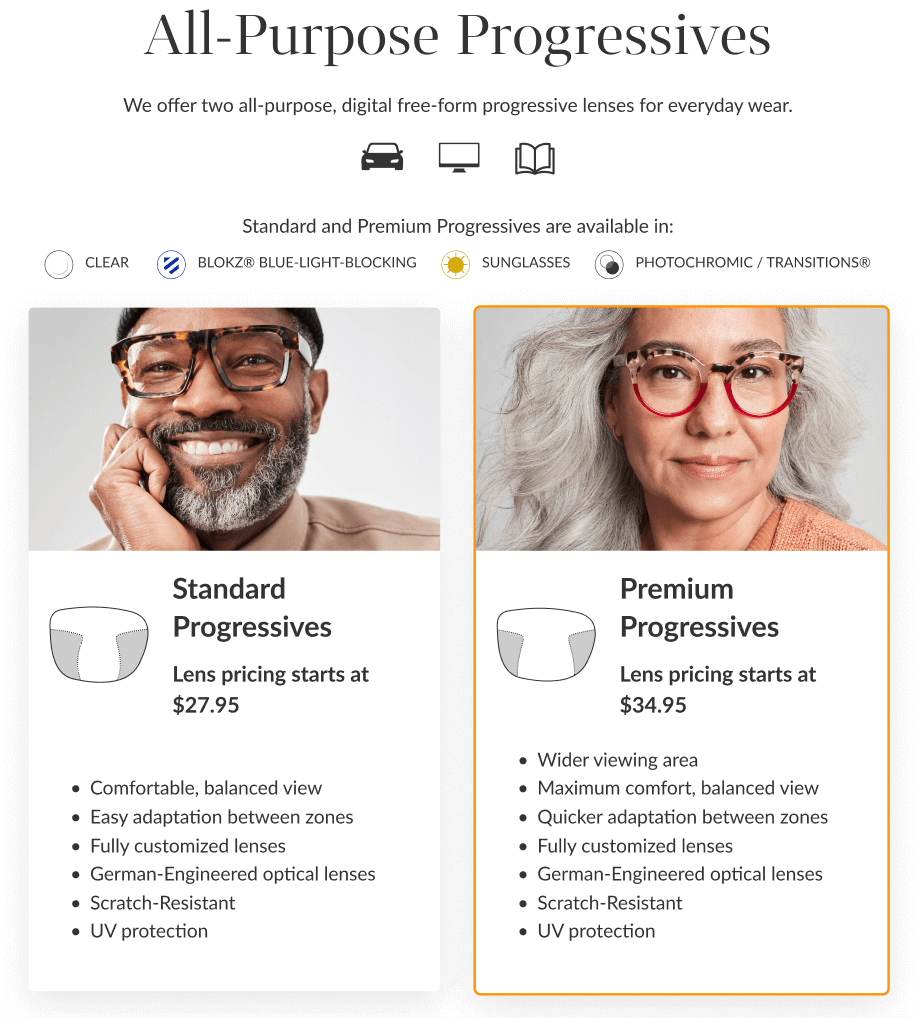 Why should you choose our Premium Progressive Lenses?
Our German-engineered Premium Progressive lenses are designed for a superior visual experience.
When wearing a Premium Progressive Lens you will enjoy:
Superior Focus & Reduced Eye Strain
An Excellent Balanced View
The Highest Comfort
A Fully Customized Lens
Easy Adaptation Between Zones
Are you in front of a computer screen all day?
Zenni also offers 2 workspace progressive lenses designed to supplement your all-purpose progressive lenses. These special-use progressive lenses are beneficial for prolonged, up-close near work. Unlike all-purpose progressive lenses, they do not have distance vision correction and are not for driving.
Our Near-Range Workspace Progressive is designed for greater comfort and visual clarity within 3 feet. These activities may include prolonged reading, heavy computer use, and sewing/crafting.
Our Mid-Range Workspace Progressive is designed for greater comfort and visual clarity within 14 feet. These activities may include heavy computer use and watching television.
Both our Near-Range and Mid-Range Workspace Progressives lenses start at just $37.95.
Do I Need Bifocals or Progressives?
If you are in your 40's, you may have noticed more difficulty reading. This is due to Presbyopia, an age-related eye condition that impacts the crystalline lens in your eye. Your eye care professional can help recommend the best lens type for you.
What are some Benefits of Progressive Lenses over Bifocals?
You are able to see clearly far away and up close with both Bifocals and Progressives. However, Bifocals provide correction for just distance and near. The distinct line on bifocal lenses can also be noticeable. Progressive lenses provide a seamless no-line lens design and clear vision at distance, intermediate, and near.
What are some tips for getting used to Bifocals or Progressives?
It can take some time to adapt to wearing new bifocals or progressives. For new wearers, I recommend increasing how much time you wear your new glasses over the first few days. Try not to switch back to old pairs of glasses! This will lengthen your period of adaptation.
Check out this video for more tips!
Dr. Mori has over 10 years of experience in eye care. She earned her undergraduate degree from UCLA and her optometry degree from the New England College of Optometry. She has worked in a variety of eye care settings and is passionate about helping her patients find a great pair of affordable glasses.