FESTIVAL FASHION: Coachella Outfits, Sunglasses, and Celebrity Style
Each year, Coachella marks the start of music festival season. Over two weekends in April, flocks of beautiful people, stylish models, celebrities, and die-hard music lovers descend upon Indio, CA in droves. At Zenni we couldn't be more excited! After all, eye-catching sunglasses are the must-have accessory for those lucky enough to frolic on the vast Empire Polo Field playground.
Whether you're looking for a last-minute Coachella outfit, or are wondering what to wear to a music festival later this summer, check out our 5 festival-ready looks. Inspired by Zenni's festival sunglasses and the style-savvy celebs who have mastered the art of Coachella fashion, you're all set for the festival season ahead!
BOHEMIAN SPIRIT
If there's one look that's come to define Coachella fashion, it's the free-spirited bohemian girl. From floral crowns and crochet, to tribal patterns and tie-dye, boho staples have become synonymous with festival style. Our modern bohemian babe departs from the cliché opting for a mix of vintage pieces, '70s-influenced spring trends, and western touches.
Work this look into your festival wardrobe by adding leather, fringe details, and gold accent pieces. A pair of retro-inspired, round sunglasses with a mirrored tint are the ultimate accessory. Fashion insider tip: an eye-catching, one-piece swimsuit works at a pool party by day and worn as a top under shorts at night.
Photo Credit: HealthyGirlsLove, eonline, JustJaredJr
Alessandra Ambrosio, Kendall Jenner, and Selena Gomez pull off the modern bohemian vibe effortlessly.
TRY: Vintage-inspired round shades with a reflective, gold-mirrored lens.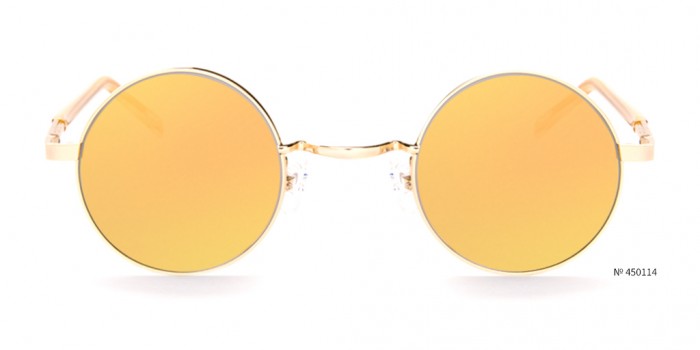 OR: Seventies flair meets desert cool: the definitive Coachella sunglasses.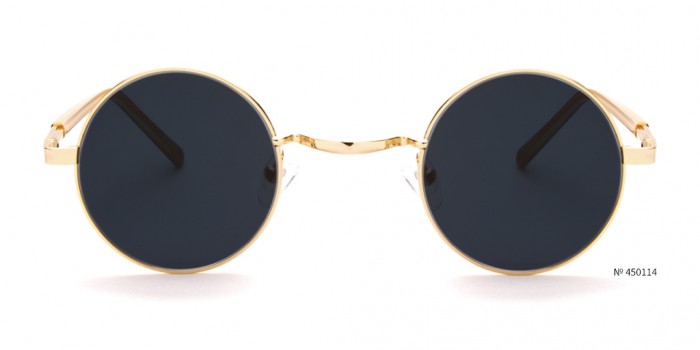 ROCKER CHIC
It's all about leather, lace, studs, and silver details for this badass babe. Edgy and confident, she's all about the music at Coachella. You'll find her front row, center stage, and ready to rock out to her favorite bands. And you can bet this rocker chick has managed to score a pair of highly coveted backstage passes. With Guns N' Roses headlining the festival, this look is a guaranteed winner. Grab your favorite rock tee, a fringe vest, and layer on the jewelry. And don't forget, a serious pair of statement shades is required. Can you say, 'Welcome to the Jungle'?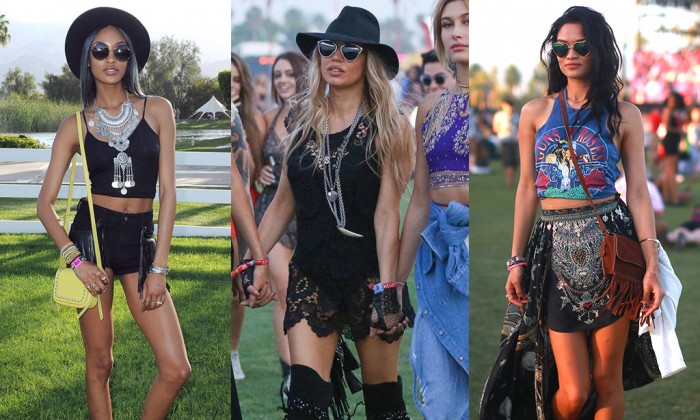 Photo Credit: Glamour, Just Jared, HarpersBazaar
Jourdan Dunn, Fergie, and Victoria's Secret model Shanina Shaik show off their edgy rocker festival style.
TRY: Take a walk on the wild side. An animal print frame with a mirrored finish is perfect for looking like a rockstar.
FLIRTY FUN
Coachella is the ultimate playground for our flirty girl. She's up for anything — bouncing from show to show, party to party, and ultimately ending the night at the infamous Neon Carnival. This carefree girl is full of life and her energy is infectious. To emulate her style, add a playful note to your festival wardrobe with embroidered shorts or a brightly colored romper. Feeling extra flirtatious? Try our super-sweet, heart-shaped frames in translucent cherry red with a silver-mirrored lens. Just be prepared to be photographed a million times. They're absolutely irresistible!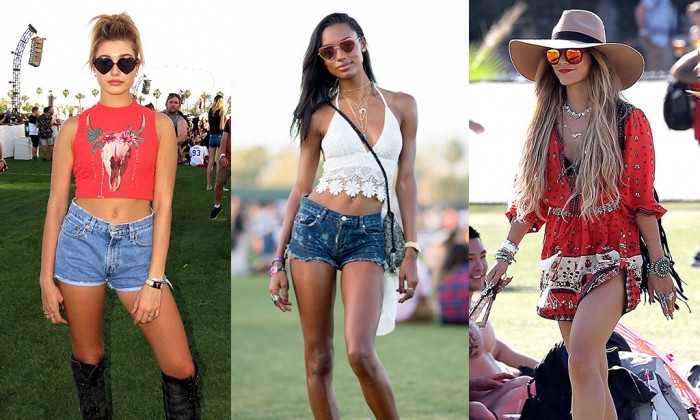 Photo Credit: Gotceleb, Elle, styledbymesophie
Hailey Baldwin, Victoria's Secret model Jasmine Tookes, and reigning Coachella queen Vanessa Hudgens show off their sweetheart style.
TRY: Turn heads in translucent red, heart-shaped frames. Warning: you might break a few hearts!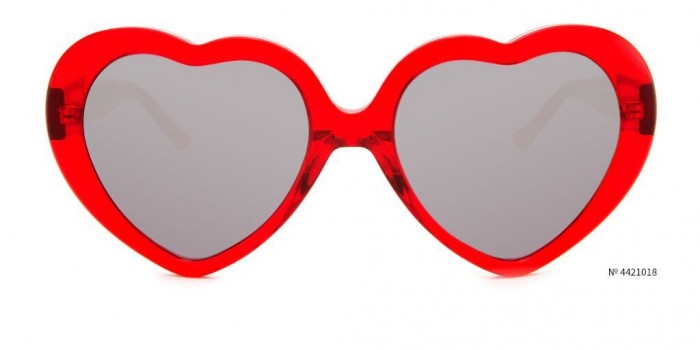 OR: If red isn't your best color, it's blue skies ahead with a cobalt-mirrored lens.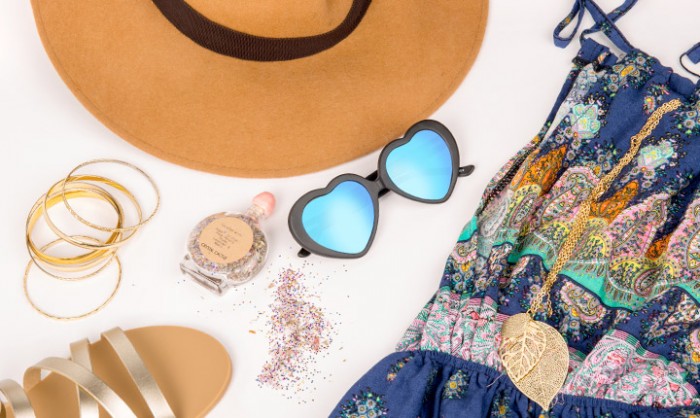 TRY: Our signature heart frames in a black matte finish accented with a stunning blue reflective finish. Yes, please!
SPORTY STREET CHIC
Let's face it, not everyone is inclined to wear a floppy hat and floral romper to a music festival. For the street chic gal — one who favors a baseball cap over a fedora, Converse® over gladiator sandals, plaid over suede, this look is for you. The sporty chic girl is smart enough to know that you don't have to sacrifice fashion for comfort. She's ready to show off her Stan Smith Zig-Zags while dancing the night away in the Sahara tent. An emerald green crop top paired with denim shorts and our unisex brow-bar aviator sunglasses mixes the best of street style fashion and trendy athletic wear.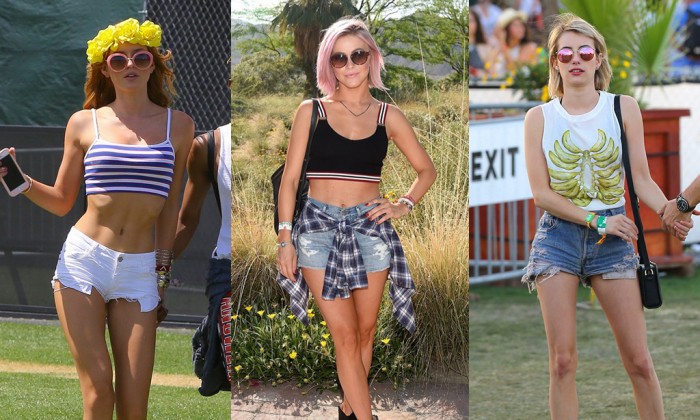 Photo Credit: JustJaredJr, FashionGoneRogue, JustJaredJr
Bella Thorne, Julianne Hough, and Emma Roberts look casual and comfortable in their streetwear-inspired festival clothing.
TRY: Super stylish, round brow-bar aviators complete the sporty chic look.
FASHIONISTA
Fashion "It girls" are always a major presence at Coachella. They're actresses, models, socialites, and international jetsetters. You might even know them by name: Gigi, Kendall, Rosie, Kate. Festival fashionistas get invited to all the best parties, score VIP passes, wear the latest designer clothing, and get photographed looking picture-perfect despite the scorching desert heat.
To achieve high-fashion style on any budget, keep your Coachella outfits minimal and understated. Pair neutral-toned accessories with light, airy fabrics and natural textures such as a linen dress, suede ankle boots, and tortoiseshell sunglasses. You'll stand out from the busy crowd of patterns and prints with clean lines and amazing accessories.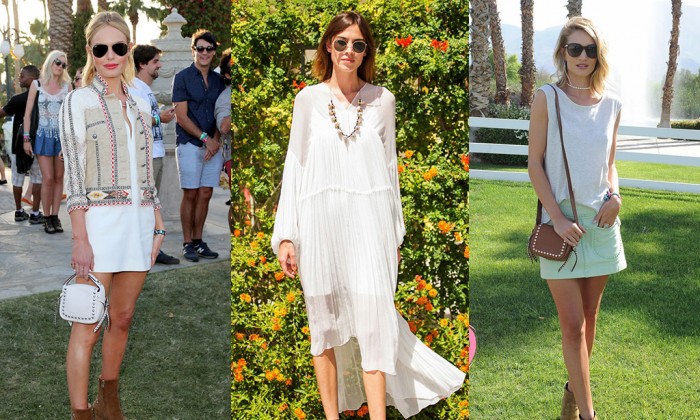 Photo Credit: Elle, Just Jared, LiterallyDarling
Kate Bosworth, Alexa Chung, and Rosie Huntington-Whiteley demonstrate that less is more when it comes to high fashion in the California desert.
TRY: A glamorous tortoiseshell frame complimented by an amber-mirrored lens to elevate your festival style.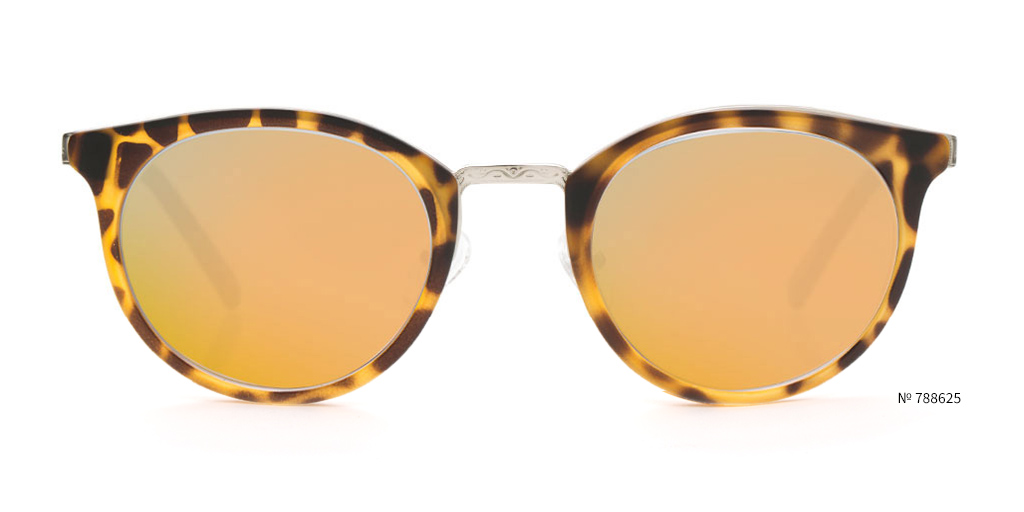 Which of our Coachella outfits and sunglasses are your fave? Do you have your festival clothing picked out? Tell us about it in the comments below!
Update: For some updated looks, check out our Coachella 2017 styles and then go browse our top festival sunglasses styles.