George Kittle Nails the Headphone Challenge in Zenni's Stylish Glasses
In a world where fashion meets sports, George Kittle, the celebrated tight end for the San Francisco 49ers is no stranger to the limelight. This TikTok video showcases George taking on the Headphone Challenge, and we have to say, he absolutely crushed it! What's even more exciting is that George is wearing his own design from the Kittles x Zenni collection, and it's the perfect blend of style and athleticism.
George Kittle's Winning Look
In the entertaining TikTok video, George Kittle showcases a pair of glasses from the Kittles x Zenni collection that combine style and functionality seamlessly. Named "Hayden" after the legendary Iowa football coach Hayden Fry, these aviator-style glasses exude a sense of classic style with a sleek stainless steel frame, adjustable nose pads, and plastic temple tips for comfort. Available in two striking variations – gold with tortoiseshell temple tips or rose gold with pink tortoiseshell temple tips – they cater to diverse tastes. To complete the George Kittle look, pair the Hayden frame with a blue fashion tint lens, enhancing style while protecting your eyes, making you ready for any challenge, be it on the field or in everyday life.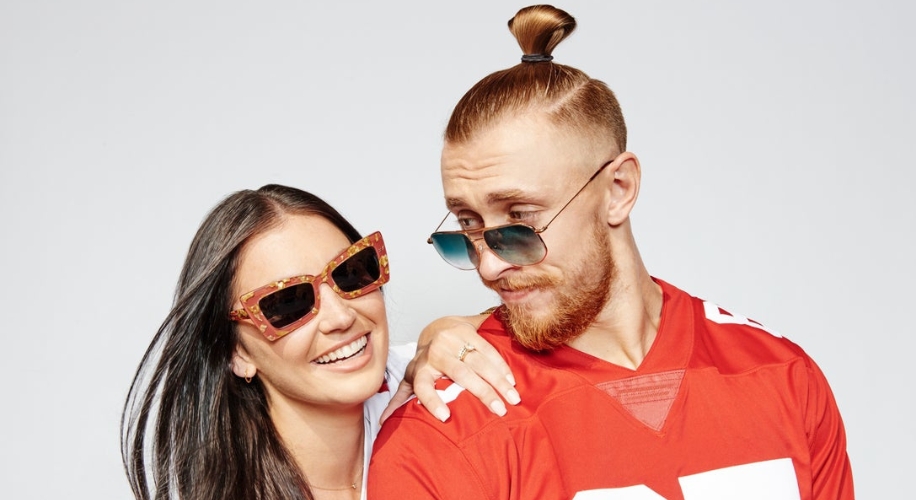 George Kittle's impeccable performance in the Headphone Challenge on TikTok showcases his unique blend of sportsmanship and style. The Kittles x Zenni collection, featuring the Hayden frame, is a testament to his commitment to both form and function. These stylish glasses not only celebrate George's connection to the University of Iowa but also add a touch of class to any outfit.
So, if you're looking for eyeglasses that not only make you look good but also feel comfortable, don't hesitate to check out the Kittles x Zenni collection, and who knows, you might just nail your own challenges with style, just like George Kittle!
Shop The Kittles x Zenni Collection

Dr. Sophia Moh, OD, is an optometrist based in the Bay Area, California. She holds a doctorate from UC Berkeley School of Optometry and has worked in various eye care settings, including primary care optometry, general ophthalmology, community health clinics, and Veterans Affairs. Dr. Moh is dedicated to improving global vision health by making high-quality, affordable eyewear accessible to all. She is also a certified American Board Optician (ABO) and actively contributes to optical education through training and lectures.