Totally Transparent: Why Clear Glasses Are the New "It" Frame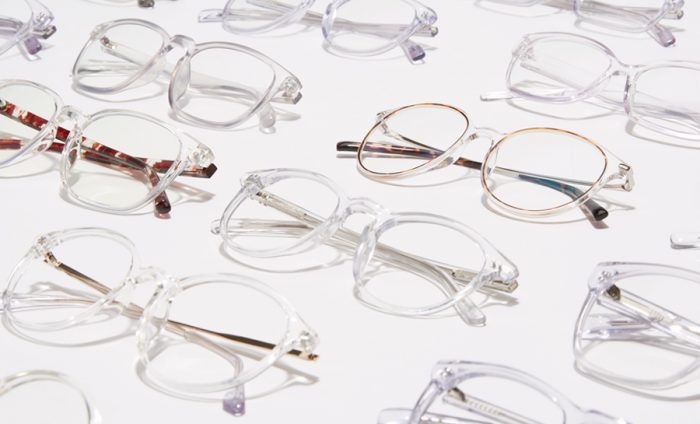 When people want bolder eyewear, they typically opt for frames in black, brown, or tortoiseshell. /b/clear-glasses">Clear frames are another option for making a statement with your eyewear. While clear frames have been around for a while now, they've only started to gain in popularity more recently. Today, Zenni offers a wide range of clear frames in a variety of shapes and sizes.
Also known as translucent or colorless frames, clear glasses are great for both men and women and add fun style to your overall look. One reason they are so popular is that they're very easy to wear. They complement almost any complexion and look great on all face shapes. Another benefit of wearing clear glasses is that you can experiment with larger frame styles since they don't overwhelm your face the same way that darker frames can.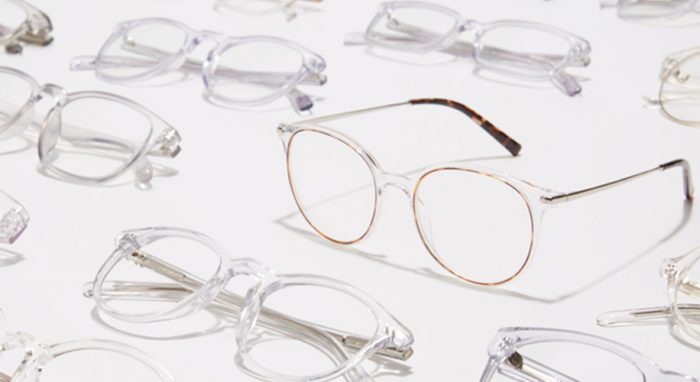 Hot To Choose Clear Frames
Choosing the right shape of glasses is important when deciding on any new eyewear. You want to find a pair that complements your face shape and suits your personality. As a rule of thumb, circular and oval frames work well on/blog/glasses-for-square-faces/"> square faces; browline, cat-eye, and oval glasses work well on /blog/best-glasses-for-diamond-faces/">diamond faces; square-leaning frames work well on /blog/glasses-for-oval-faces/">oval faces; round and square frames work well on /blog/glasses-for-heart-shaped-faces/">heart shaped faces; and rectangular and square frames work well on /blog/glasses-for-round-faces/">round faces. Not sure what face shape you have? Take our quiz!
The secret to making your clear glasses stand out is to pick an oversized frame. Always in style and easy to wear on any face shape, large frames will make your clear glasses easier to see from a distance and make a more dramatic style statement. If you're not ready to commit to a pair of fully clear frames, explore a pair that has a slight hue. We have clear frames available in a range of colors. Some of our favorites include frames with a faint /p/womens-acetate-round-eyeglass-frames/6628?skuId=662819″>blush tone or a funky /p/plastic-round-eyeglass-frames-/20186?skuId=2018623″>tortoiseshell accent.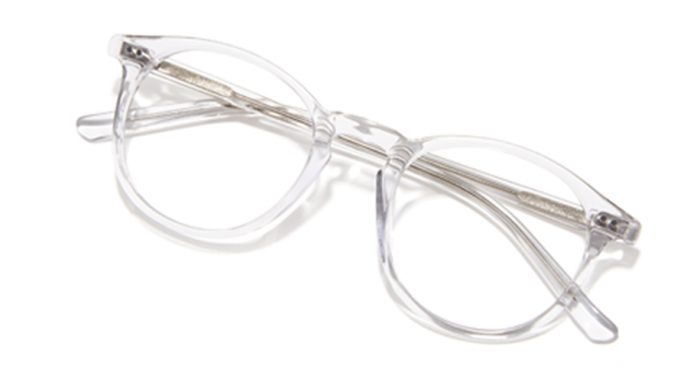 Shop this/p/acetate-round-eyeglass-frames-/44224?skuId=4422423″> frame
Tips For Styling Your Clear Glasses
1. Opt for a lighter outfit. Any color of clothing will ultimately match your clear frames. That said, darker colored pieces tend to overpower and draw attention away from your frames, while lighter colors will help make them stand out.
2. Try as readers. Readers are always a great way to experiment with fun shapes and colors. A pair of translucent readers is an easy way to play with the clear frame trend.
3. Wear neutral makeup. Heavier makeup does not balance well with clear glasses. Apply your makeup lightly and choose softer, more neutral colors for your lip and eyes.
Check out of Zennistas wearing their favorite clear glasses!