Easy & Epic Halloween Costume Ideas Featuring Our Go-To Glasses
It happens every year. October rolls around and you get lulled into the coziness of fall. That is, until you realize it's almost Halloween and you haven't thought of a costume yet! But before you drop everything to run to the nearest Party City, sit tight.
We're put together a list of quick and easy Halloween costumes ideas inspired by our favorite glasses-wearing characters from pop-culture. We're betting you'll be able to find most of what you need in your very own closet.
See Zenni Optical's six suggested ideas below to complement each costume, just in case you need anything extra to complete your look. The best part is: most of the eyewear, clothes and accessories shown could totally work in your wardrobe the other 364 days of the year too!
Meme of the Moment
Cardi B Boppin' at the All-Star Game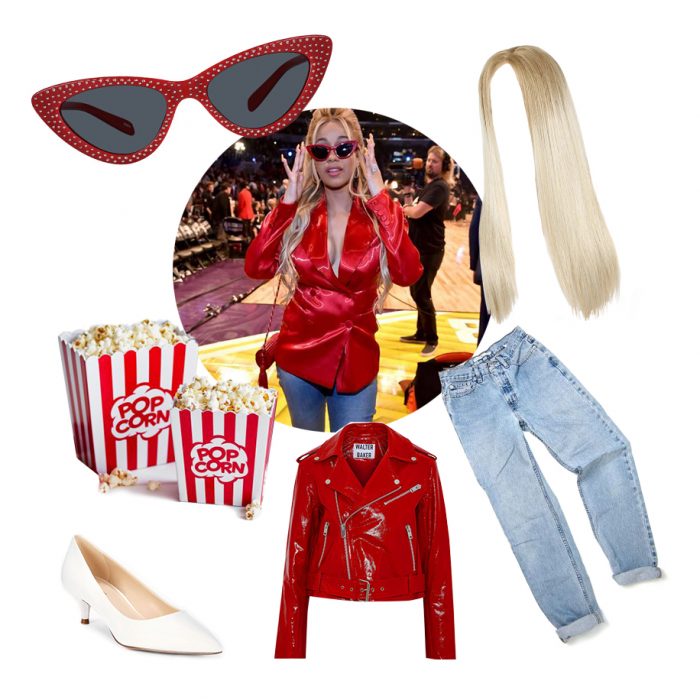 From the moment she burst onto the scene in 2017 singing about red-bottom shoes, pop phenom Cardi B had stolen our hearts. Pay homage to her most iconic look of 2018, when she caught serious attention for slaying in this bright-red, 1990s-inspired ensemble at the NBA All-Star Game last February.
Rock the red trend by pairing a patent leather jacket and extreme cat-eye sunglasses with a pair of washed-out mom jeans and your biggest, blondest wig. Complete the look with a classic ballpark popcorn bag and get ready to groove at a moment's notice when your song comes on.
Get the Cat-Eye Glasses: 2025918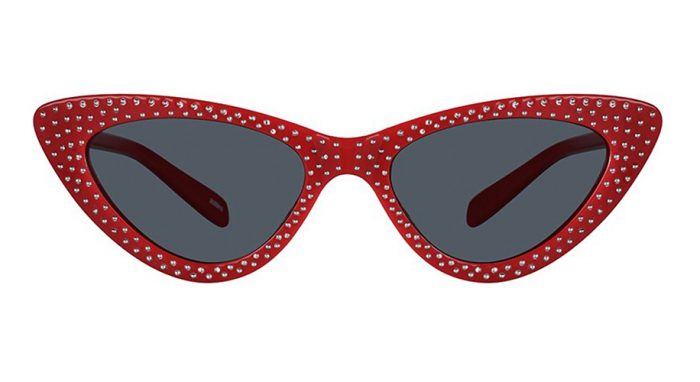 Best Use of Current Wardrobe
Daria Morgendorrffer
According to multiple major media outlets, our favorite 1990s MTV cartoon Daria will return in 2019 for a reboot! We love this look because it's totally cool, and probably one of the easiest to pull off using things you already wear.
Once you grab a black mini-skirt and green jacket, focus on finding a real rugged pair of combat boots and oversized round glasses. When it comes to hair, don't over-style; let your bangs come forward as if you're trying to create a barrier between you and a sick, sad world.
Get the Round Glasses: 126921
Cutest Kids Costume
Waldo from Where's Waldo
Whether you're out trick-or-treating or taking the whole family down to a haunt at the local pumpkin patch, Waldo always works. The timeless appeal of a pair of round glasses and those red sailor stripes is guaranteed to melt hearts and save you a ton of time and energy this season.
Get the Kids' Flexible Round Glasses: 209016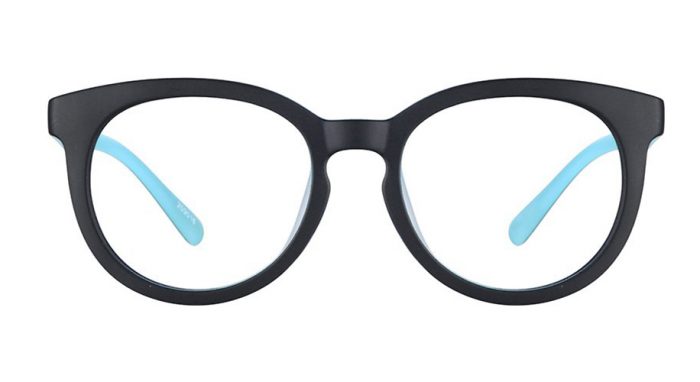 Coolest Couples Costume
Doctors Mantleray & Fujita from Netflix's Maniac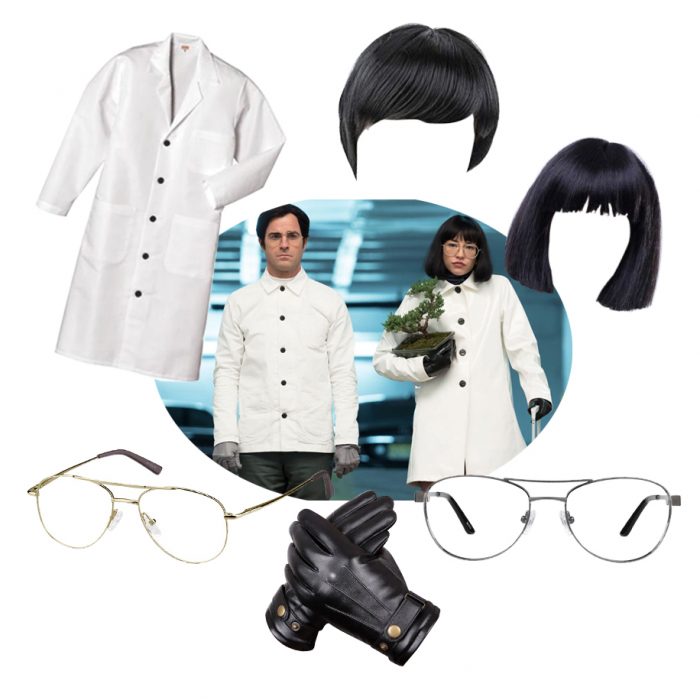 If you haven't watched it yet, this mind-bending new Netflix series follows the story of two visionary doctors (played by Justin Theroux and Sonoya Mizuno) and the story of their drug trials shown through the perspective of two of the participants (played by Emma Stone and Jonah Hill).
Both Mantleray and Fujita wear thin, wire-frame glasses that remind us of styles from the 1970s and 1980s and lend an odd air of authority to both. First, you'll need matching white lab coats. For Dr. Mantleray, top the look off with a toupee wig and ultra-thin wire-frame aviators. For Dr. Fujita, complete the look with a Pulp Fiction wig, fake cigarette, and oversized round aviators.
Get the Aviator Glasses: 651312
Get the Premium Aviator Sunglasses: 1126511
Best Excuse to Wear Sunglasses at Night
Holly Golightly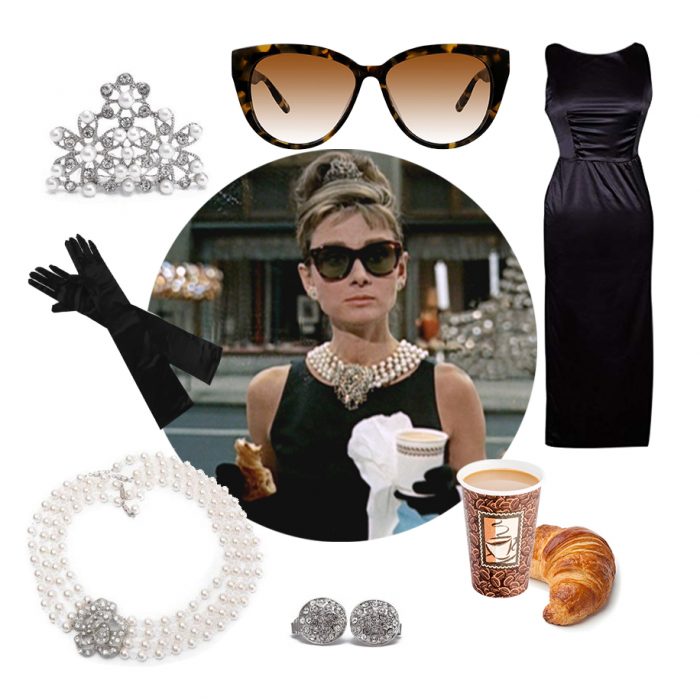 If you're into classic New York glamour, you'll love borrowing Audrey Hepburn's iconic look from the 1961 movie Breakfast at Tiffany's. Plus, you get to eat croissants and drink coffee (or wine?) out of a coffee cup all night.
You'll also need a long, black dress and matching evening gloves. To complete the look, add some pearls and rhinestones. Tease your hair up and away from your face, and pull it up into a French twist with a tiara. Keep the makeup simple with a well-defined cat-eye liner, then add bold tortoiseshell sunglasses:
Get the Premium Cat-Eye Sunglasses: 112025
The Dude
Calling all beardos! If you want to keep the vibe extremely laid-back, you'll likely find your bliss stepping into the jelly sandals of The Dude.
Stick to earth tones on the lighter side of the spectrum, and equip yourself with a pair of well-worn cotton shorts (preferably in a drab, faded plaid), a schlubby tee, a fluffy bathrobe worn open (a zip-up hoodie will also work), a pair of clear jelly Sandals straight out of 1998, and a slick rectangle frame with a dark tint.
Get the Premium Rectangle Sunglasses: 1110721
As always, remember to share your Zenni Optical-inspired Halloween costume ideas with us on social media!