Meryl Streep: This Lady Looks Good In Glasses
Who says stylish eyewear is only for the young? Acting superstar, Meryl Streep, looks amazing in eyeglasses and is always fabulously put together.
We mean in her own life as an actress and not the characters she plays such as when she donned the face-flattering, rimless, black-sided eyeglasses  in The Devil Wears Prada. Meryl Streep sets the style standard for seniors as she always looks elegant and engaging in her excellent eyewear examples.
She's always ready for an award show or other event. So, let's take a good look at her good looks:
Hollywood Legend Ultra-Mod
Our favorite Meryl Streep eyewear look is her cateye sunglasses with a smoky brown tint. We love this exaggerated lens shape on her.
The dramatic style is even a little reminiscent of those thin, arched eyebrows in the film where her character exclaims "The dingo ate my baby." We think these cat eyes are equally as memorable.
The sophisticated shape, tint and metal accents on the sides of the cat eye frames are just elegant and strong on style. Meryl's face shape seems to be just as flattered by the cat eye shape as her more commonly worn rectangular frame.
Gracefully Gray
Gray, rectangular eyeglass frames are wonderful on Meryl Streep. The color contrasts nicely with her blonde hair whether she wears it long, shorter or up.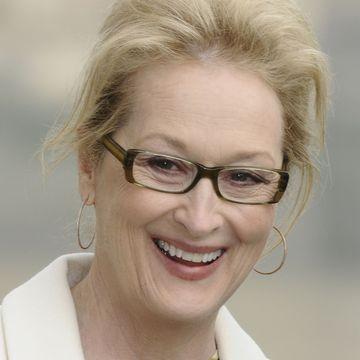 She's been photographed in many stylish outfits worn with this type of eyewear including all-neutral outfits and ones with a dash of color. The color dash is usually in the form of a perfectly draped silk scarf in a 'wow' hue such as orange-red.
Our favorite all-gray ensemble she's worn includes boots, an elegant wool pant suit and a long, large-beaded necklace in the same neutral.
Ms. Streep's photos also include gray frames worn with a shiny, black v-neck blouse and a gorgeous, ornate necklace with black and gray stones. Although it's a more subtle approach to style for the acclaimed actress, a cream dress with a silver rope necklace makes the gray rectangular frames stand out to keep the focus on her eyes.
Every so often Meryl seems to choose cream clothing which can be worn with many eyeglass frame colors — light or dark. But gray frames on Meryl Streep somehow seems to pick up the intellectual spark in her eyes or something, flattering her face beyond just appearance alone.
Going For The Gold
We love that Meryl is not afraid to wear bold, black eyeglasses frames for formal dress. For example, the metallic gold, v-neck wrap dress she wore to the 2012 Golden Globe Awards looks picture perfect in style and even scores extra points on the color tying in with the name of the event.
We love her black frames with the stunning dress as together, the pieces make quite a dramatic style statement. Like Jennifer Aniston, Meryl Streep understands that eyeglasses and evening gowns can make for a powerfully pretty look.
Sensationally Silver
Silver-sided, bold black eyeglasses look especially amazing on Ms. Streep with her vivid red outfits. She's also worn very subtle, thin-rimmed, silver frames with more embellished fashion wear such as the silver gown she had on at the Berlin International Film Festival in February, 2012.
This gown is glamorously guazy and the narrow trimming really coordinates well with the silver rims on her eyewear. This time, she chose to wear silver although the award she received was a Honorary Golden Bear for her lifetime achievement in film, but it still worked to make her look absolutely stunning.
We can't wait to see what eyewear and evening gown combination this talented actress will choose next.