The Many Eyewear Looks Of Will Smith
Once mainly a rapper, then hitting it big on TV with The Fresh Prince of Bel-Air and even bigger in action movies, Will Smith has always looked amazing in glasses. His handsome face seems to look especially wonderful in angled lenses. Will's appearance in eyeglasses is amazing in everything angular from the classic Ray-Ban Wafarer shape to goggles.
Here's a look at some of our favorite Will Smith eyewear moments:
Dior Mist — The Pursuit of Happiness and Hancock
The misspelling in the first movie title makes so much sense as the film rolls on, but there is no misspelling Dior with its timeless branding of fashion elegance. The gray lenses on the Dior Mist glasses Smith wears in both of these must-see movies makes us think the fog is rolling in, but in a good way.
Will seems to be able to handle bold looking eyewear and tinted lenses especially well.
Ray-Ban 3154 Predator Olympia — Bad Boys 2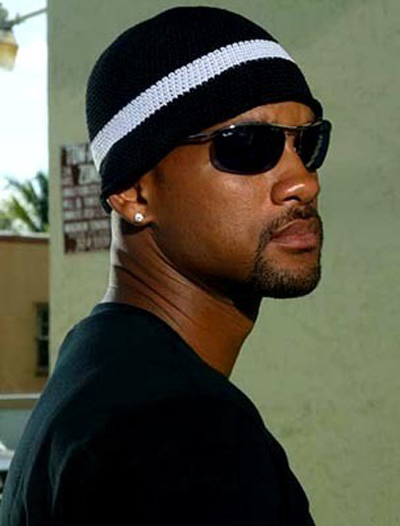 In his black cap with the white stripe and the rectangular prescription Predator glasses by Ray-Ban, Will Smith looks like a tasteful kind of 'Bad Boy.' The silver-toned uppers on these black sunnies are a really nice touch for cool sophistication.
Dita's Cazal 902 — (Will in his real life)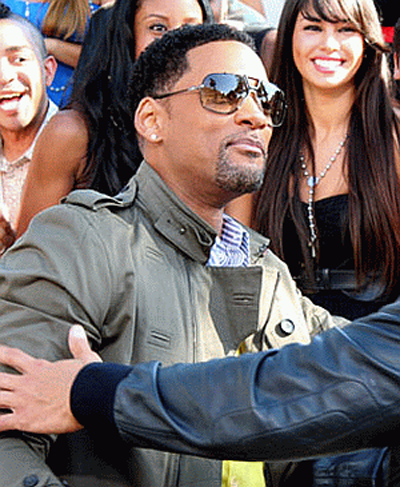 Will was photographed looking so hip to be square in smoky brown, square-lensed, Dita Cazal 902 sunglasses. Again, we have to comment how well angled lenses suit this man's face. What Tom Cruise does for aviators, Will Smith does for square lenses. They work so well with Smith's skin tone and face shape. He's a handsome one in these shades!
We think these Dita Cazal sunnies would look perfect with Will's casual fashion outfit in his film, Hitch. He made many guys want to copy the sharp, yet relaxed style of the dark jeans, a tan blazer and a white dress shirt with blue and brown stripes. Brown tinted lenses and silver-toned eyewear accents are just right to finish off this outfit.
Oliver Peoples' Virtuoso — Hancock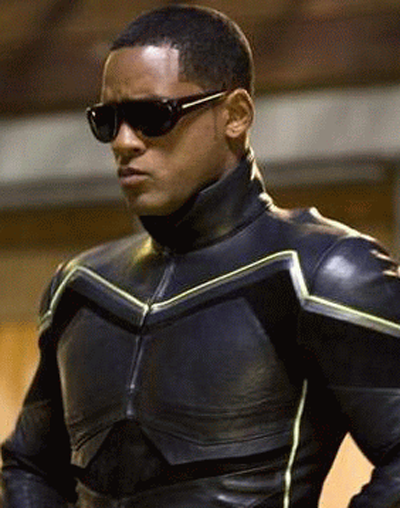 What else looks good with a superhero spacesuit type of costume than goggle type eyewear? The thick sides and bold look of these glasses help give Will's character of John Hancock just the right look for his out of this world wardrobe.
Fitovers Navigator — Hancock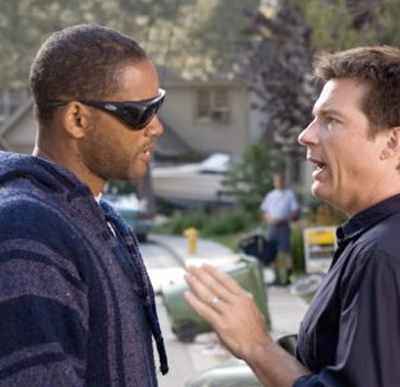 The third pair of bold glasses Smith dons in Hancock is Fitovers Navigator sunglasses. A unique and catchy style feature is that the lens color is designed to show through in a 'window' portion on each side of the frame.
Fitover Navigators are available in black or amber and can be worn alone or over small eyeglasses such as round wire-rimmed eyewear. Hey, we wonder what Will would look like in a pair of round glasses, but we may never know as in his movies and real life, rectangles seem to be his chosen eyewear shape.
Ray-Ban 2030 Predator — Men in Black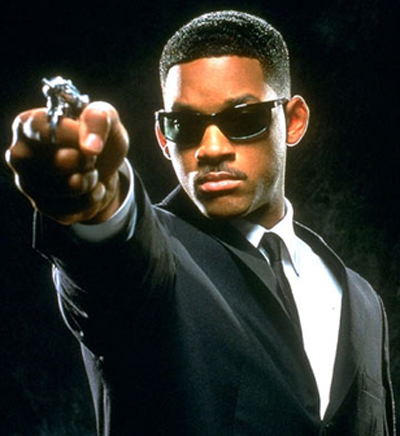 Well, black sunglasses are a given if men are to be cool as well as wear black. Will rocks the Ray-Ban 2030 model Predator black wrap sunnies. You have to look fabulous when you're ridding the world of extra-terrestrials, don't you?
SALT Optics Wyatt — Men in Black 3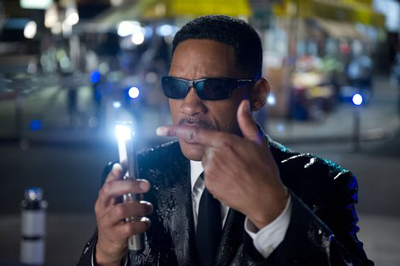 This time, the  rectangular black lenses and silver-toned sides of SALT Optics Wyatt are featured in MIB's third sequel. Smith likes them so much, he promotes the brand for the film.
If you're the last man on Earth, having eyewear fitted with a JonesCam LX to video yourself documenting your very existence would be a good idea. It's also going to be a big help in your mission to try to find a cure for a vicious virus.
The eyeglasses camera is about half the length and width of a pen. Ask not what your camera can do for you, but what your glasses can do for your camera (hold it up in style.)