Styling Gold Sunglasses: A Timeless Trend
As an eye care provider, we understand the importance of protecting your eyes from harmful UV rays, but we also recognize the need for style and personality in your eyewear. One trend that seems to never fade away is the use of gold sunglasses. These glasses, whether aviator sunglasses for men, oversized sunglasses for women, or anything in between, always seem to add a touch of elegance and class to any outfit.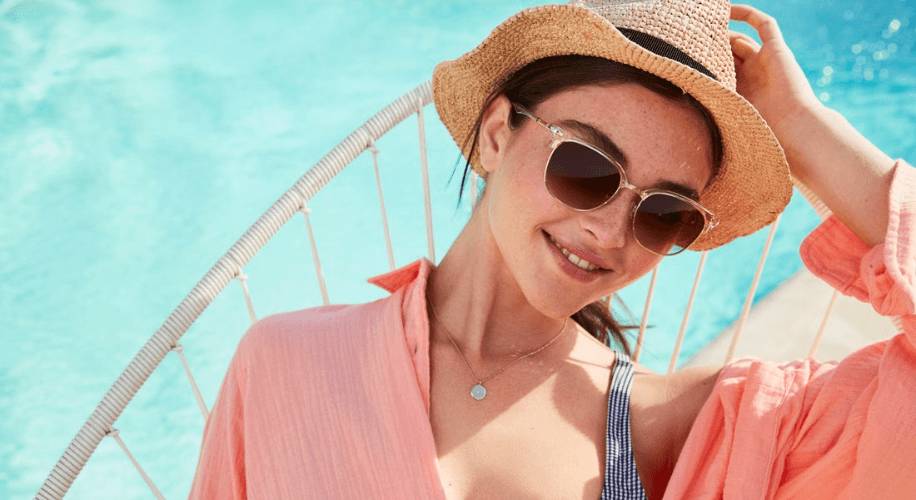 The Versatility of Gold Sunglasses
Gold sunglasses are known for their versatility. The hue of the gold can range from a rose gold tone to a brassy hue, making it easy to match with various skin tones and outfit colors. It's a popular choice for both men and women, with styles like aviator sunglasses for men and women's aviator sunglasses remaining a classic choice. Let's not forget about the designer sunglasses that come in gold tones, adding that extra flair to your outfit.
Outfit Pairing: Gold sunglasses can be matched with nearly any color, but they particularly stand out when paired with black, white, or navy blue outfits. For a more casual look, gold sunglasses can also complement denim or khaki ensembles.
The Perfect Accessory: These glasses not only protect your eyes but also serve as a chic accessory that can enhance your overall look. You can even match them with your jewelry.
Variety of Styles: From aviator to round to square and oversized, gold frames come in all shapes and sizes. The trendy cat eye sunglasses or the retro-inspired round glasses for women are just a couple of examples where a gold frame can truly shine.
Considerations When Buying Gold Sunglasses
Before you click the "add to cart" button, there are a few things to consider when purchasing gold sunglasses. It's not just about the style, but also about the lens quality, UV protection, and the fit.
Lens Quality: The quality of the lenses plays a significant role in the overall performance of the glasses. You want lenses that not only protect your eyes from harmful UV rays but also offer clear vision. Consider lenses with anti-reflective coating to reduce glare.
UV Protection: Always ensure that your sunglasses provide 100% UV protection. After all, the primary purpose of sunglasses is to protect your eyes from harmful sun rays.
Fit: The glasses should fit comfortably on your face. They should not pinch your nose or slide down. The arms of the glasses should not feel tight around your temples.
Customizing Your Gold Sunglasses
At Zenni Optical, we offer a variety of active eyewear and prescription sunglasses for men and women. You can even customize your non prescription glasses with different lens options, including tinted lenses or mirrored sunglasses. Consider our high index lenses for thinner and lighter glasses, especially if you have a strong prescription.
Gold sunglasses are indeed a timeless trend. Whether you're looking for a pair of aviator sunglasses for men, oversized sunglasses for women, or any other style, the gold frame is sure to add that extra touch of elegance to your outfit. But remember, when you're buying gold sunglasses, consider the lens quality, UV protection, and the fit of the glasses. At Zenni Optical, we offer a wide selection of gold sunglasses, with options to customize your lenses for the perfect pair.