Tinted vs. Polarized Sunglasses
This article was updated on April 14, 2023.
Wearing sunglasses can help reduce discomfort and shield you from harmful UV radiation while outdoors. Since there are several lens options for sunglasses, we're taking some time to discuss the differences between two of the most popular options: tinted and polarized lenses.
Tinted Lenses for Sunglasses
Tinted lenses are colored lenses with a varied degree of darkness. Based on how much light is able to pass through, tinted lenses are able to reduce the brightness and discomfort that can be caused by glare. However, tinted lenses are not able to get rid of glare, they only make it less intense. Even better, you can opt for Blokz Sunglasses which also block blue light rays that come from screens, artificial lights, and the sun.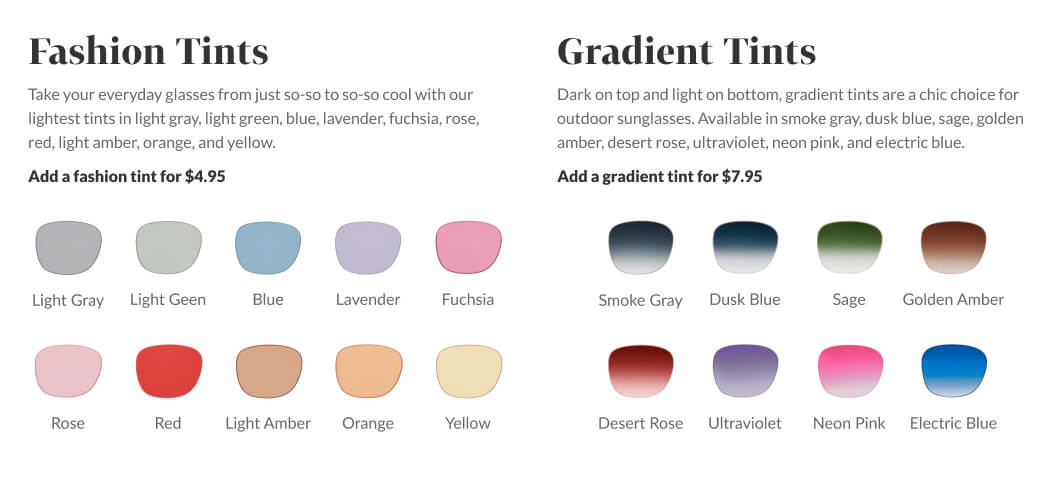 Polarized Lenses for Sunglasses
Polarized light is created when light is reflected off horizontal surfaces such as roads, snow, and water.
Polarized lenses specifically, filter out the horizontal light waves or "glare" while still allowing light to pass through.
Impressive, right? Learn more about how polarized sunglasses work next.

Customize Your Sunglasses With The Right Lenses
Now that you know the difference, which lens do you prefer for your sunglasses – tinted or polarized? Head over to Zenni and check out our selection of tints starting at $7.95 and polarized lenses starting at $35.95. Our wide selection of polarized and tinted lenses (fashion, gradient, and sunglass) lets you express yourself in a way that is uniquely you. We also offer polarized clip-ons for many of our glasses starting at just $3.95. Simply add them to your cart with options for solid or gradient clip-ons in amber, gray or green.