Discover the Benefits of Men's Polarized Sunglasses
As the sun shines brighter, one accessory that men reach out for is their trusty pair of sunglasses. However, not all sunglasses are created equal. For those seeking top-notch eye protection, comfort, and a sharp view, men's polarized sunglasses are a must-have. Let's delve into the benefits of these unique type of sunglasses.
Enhanced Vision and Comfort
The primary benefit of polarized sunglasses for men is their ability to significantly reduce glare. Traditional sunglasses only decrease the amount of light that passes through the lens, but polarized sunglasses eliminate the glare caused by sunlight hitting a flat surface. This drastic reduction in harsh light and reflection enhances vision clarity and reduces eye strain, making them the best online prescription sunglasses for comfort and clarity.
Here are a few more reasons why they stand out:
Improves safety: The enhanced visibility provided by polarized lenses can be crucial, particularly while driving in bright sunlight or engaging in high glare activities, such as water sports.
Increased contrast: Polarized lenses enhance color contrast, providing a more vibrant and enjoyable view.
UV protection: Many polarized sunglasses also come with UV protection, shielding the eyes from harmful ultraviolet rays.
Variety of Styles
Who said functional couldn't be fashionable? Men's polarized sunglasses come in various cool glasses frames and styles, from aviators to rectangle sunglasses. For those seeking a classic look, aviator sunglasses for men never go out of style. For a more modern and edgy vibe, rectangle sunglasses for men are a great choice. Not to mention, you can find them in an array of colors like green and orange.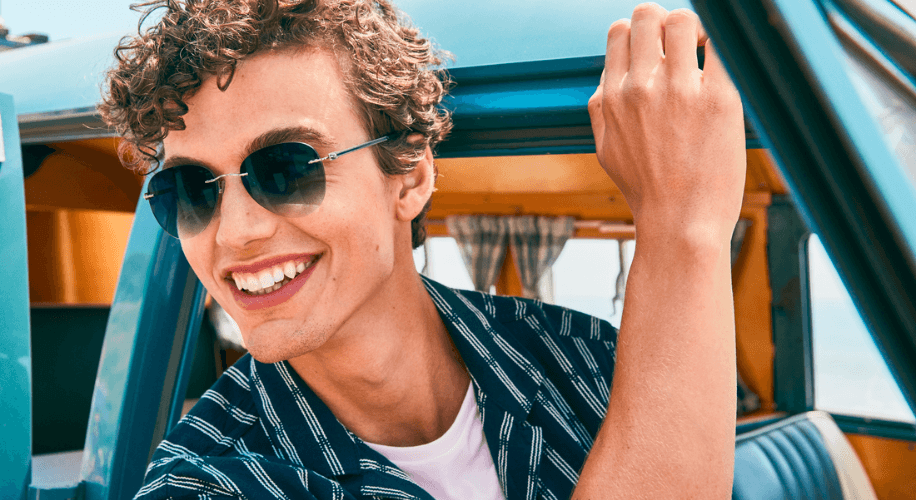 Affordability
One of the best things about men's polarized sunglasses is that they don't have to break the bank. At Zenni Optical, we offer a wide array of cheap polarized sunglasses that deliver both style and functionality. Now, you can protect your eyes and look stylish without spending a fortune.
So, whether you're hitting the beach, going for a drive, or just out and about on a sunny day, a pair of high-quality men's polarized sunglasses are an essential accessory. They provide superior eye protection, enhance your vision, and are available in a variety of stylish designs. Check out Zenni Optical's collection of polarized sunglasses for men and discover the perfect pair for you today!