See Clearly Anytime, Anywhere: Zenni's Mobile App Revolutionizes Eyewear Shopping
In a world that's always on the go, convenience is key. Zenni, the leading eyewear brand, understands the need for seamless and efficient shopping experiences. That's why we're thrilled to introduce our mobile app, a game-changer in the eyewear industry, putting the power to find your perfect pair of glasses right at your fingertips.
Unrivaled User Approval
With an impressive 52,000+ ratings and an outstanding 4.5-star rating, Zenni's mobile app has quickly become the #1 eyewear app on the Apple Store. But what sets it apart from the rest? Let's dive into the features that have our users raving.
Intuitive Shopping Experience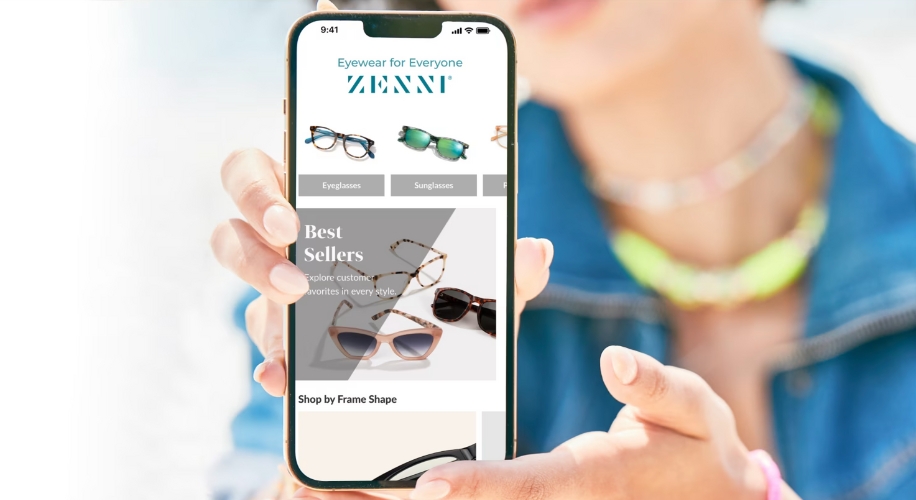 Browsing and selecting your next pair of glasses has never been easier. Zenni's mobile app allows you to shop effortlessly with a user-friendly interface. The intuitive design makes it simple to explore our vast collection of stylish frames, filtering options to find the perfect fit for your face shape and personal style.
Virtual Try-On: See Yourself in Style
One of the most exciting features of the Zenni mobile app is the virtual try-on. Say goodbye to the uncertainty of online shopping! Using augmented reality, this innovative tool lets you virtually try on different frames, ensuring you love the way your glasses look before making a purchase. It's like having a personal fitting room right in your pocket!
Prescription Management Made Easy
Never lose track of your glasses prescription again. With Zenni's mobile app, you can easily save and access your prescription whenever you need it. This feature not only streamlines the ordering process but also ensures that your eyewear is always up-to-date and tailored to your vision needs.
Rush Delivery: Glasses at Your Doorstep in 3-5 Days
We understand that sometimes you need your glasses ASAP. That's why Zenni's mobile app offers a Rush Delivery option, allowing you to receive your eyewear within 3-5 days. Fast, reliable, and convenient – because we believe that seeing clearly shouldn't mean waiting around.
Ready to experience the future of eyewear shopping? Join the thousands who have already embraced Zenni's mobile app. Download it today from the Apple Store or Google Play Store and discover the convenience of virtual try-on, easy prescription management, and lightning-fast delivery.
At Zenni, we're not just changing the way you see; we're changing the way you shop for glasses. Welcome to the future of eyewear – welcome to Zenni's mobile app.

Dr. Sophia Moh, OD, is an optometrist based in the Bay Area, California. She holds a doctorate from UC Berkeley School of Optometry and has worked in various eye care settings, including primary care optometry, general ophthalmology, community health clinics, and Veterans Affairs. Dr. Moh is dedicated to improving global vision health by making high-quality, affordable eyewear accessible to all. She is also a certified American Board Optician (ABO) and actively contributes to optical education through training and lectures.