Unleash Your Fandom: The Columbus Crew Glasses by Zenni Optical
Hey, Columbus Crew fans! We know you live and breathe soccer, and now you can showcase your unwavering support for the team with style. Zenni Optical, the official eyewear sponsor for the Columbus Crew, brings you a collection of glasses designed by the acclaimed celebrity optician, Marcelo Sanchez. If you're wondering who Marcelo Sanchez is, just know that he's the creative mind behind the iconic eyewear worn by celebrities like Keke Palmer, George Kittle, and other San Francisco 49ers players.
Design Inspired by Triumph
These Columbus Crew Glasses are more than just eyewear; they are a celebration of the team's legacy of triumphs. Designed with precision and passion, these timeless square glasses are a nod to the spirit of the Columbus Crew. Marcelo Sanchez, known for his impeccable taste and attention to detail, has crafted a frame that perfectly encapsulates the boldness and finesse of the Crew's unmatched spirit on the field.
Comfort Meets Fashion
Crafted from lightweight TR90 plastic, the Columbus Crew Glasses offer a comfortable fit for all-day wear. The thick rims and wider temple arms not only add a fashionable touch but also ensure that you're ready for game days and beyond. Whether you're cheering from the stands or watching from home, these glasses are designed to keep you in style.
Versatility at Its Best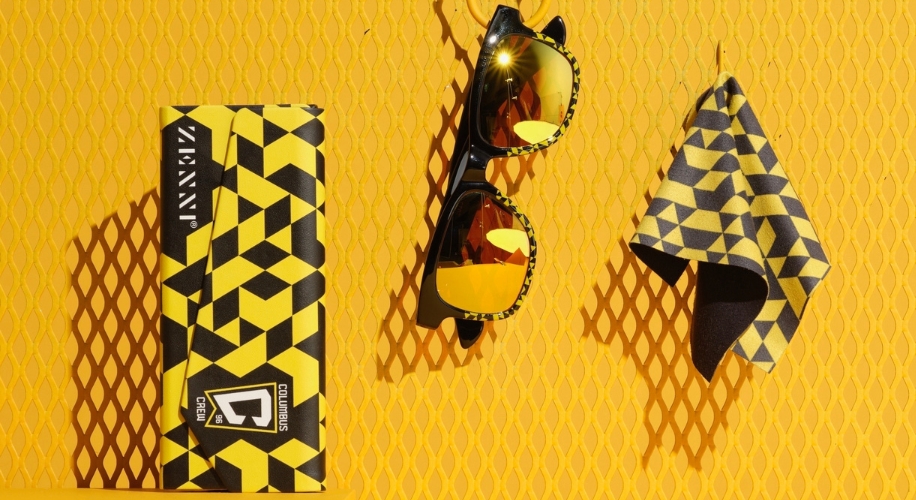 What sets these glasses apart is their versatility. The Columbus Crew Glasses can be customized to suit your preferences. Opt for clear lenses for a classic look or go for sunglasses to shield your eyes from the sun's rays. For the ultimate Columbus Crew look, choose the Gold Mirror Tint – a stylish reflection of your fandom. And for those seeking extra sun glare protection, don't forget to upgrade your lenses to polarized.
Wearing the Columbus Crew Glasses isn't just about seeing better; it's about showcasing your passion for the game and your love for the team. With Marcelo Sanchez's touch and Zenni Optical's commitment to quality, these glasses are a must-have for every true Columbus Crew fan. So, gear up, embrace the legacy, and let your style reflect the triumphs of your favorite soccer team. Get ready to stand out in the crowd with the winning combination of boldness and finesse that defines both the Columbus Crew and your new favorite eyewear. Let's go Crew!
Discover Columbus Crew Glasses
Dr. Sophia Moh, OD, is an optometrist based in the Bay Area, California. She holds a doctorate from UC Berkeley School of Optometry and has worked in various eye care settings, including primary care optometry, general ophthalmology, community health clinics, and Veterans Affairs. Dr. Moh is dedicated to improving global vision health by making high-quality, affordable eyewear accessible to all. She is also a certified American Board Optician (ABO) and actively contributes to optical education through training and lectures.