Reflect Your Personal Style with Mirror Sunglasses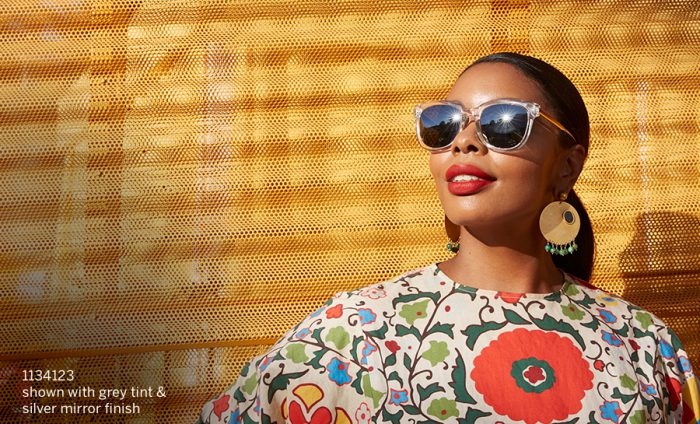 Looking to elevate your outdoor eyewear? No matter what frame shape you choose, you can add a mirror coating to reflect your personal style. Mirror finishes aren't just a fashion statement – they also block out harmful UV rays and shield your eyes from damage.
What Are Mirror Sunglasses?
Mirrored sunglasses have lenses with a mirror finish coating. Since the coating is highly reflective, it greatly decreases the amount of light that passes through the lenses, allowing for better vision in certain conditions, including:
• Water
• Snow
• Sand
• High Altitudes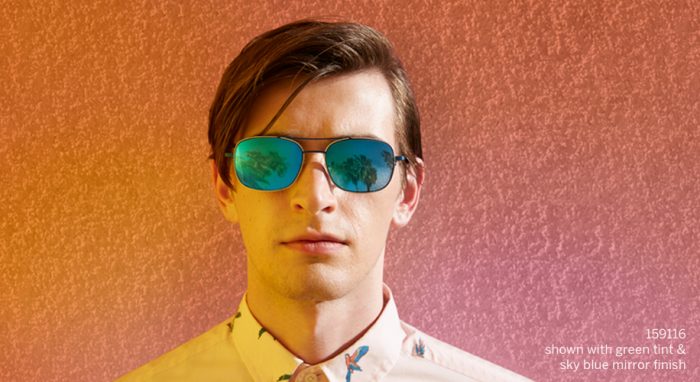 What Frames Look Best With a Mirror Tint?
Oversized, cat-eyes, hearts, geometric … basically any shape can be made into statement-making style with a mirror finish.
Small round frames have recently made a comeback in eyewear. These /p/other-metal-round-sunglass-frames/11205?skuId=1120521″>black frames are perfect with a gold mirror finish, giving you that 90s vibe that's on-trend right now.
Cat-eye sunglasses are a must for anyone looking to make a statement with their glasses. These /p/womens-stainless-steel-cat-eye-sunglass-frames/1687?skuId=168722″>modern cat-eyes in pink are perfect with an amber or gray tint. Add a rose gold mirror finish and you have the perfect fashion-forward accessory.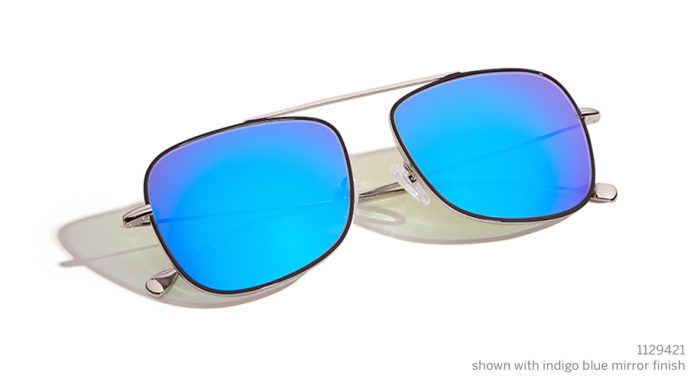 Square frames have made a fashion revival in the last few years. These modern /p/stainless-steel-aviator-sunglass-frames/11294?skuId=1129421″>silver and black square frames are accented with a cool blue mirror finish.
One of our favorite shapes with mirrored lenses is the /p/stainless-steel-square-sunglass-frames/11291?skuId=1129124″>classic aviator. Because of their shape, these popular frames provide even better overall protection from the sun than other frame choices. Thanks to the versatility of the style, they work with any mirror/tint combo.

Can Mirror Sunglasses Be Prescription?
Absolutely! Any prescription sunglasses from Zenni can have a mirror finish added. Have your prescription information ready and simply enter it in during the checkout process.
How Do I Order a Mirror Sunglasses?
Ordering your mirror finish is fun and easy to do!
1. Select Your Frame. Tints and mirror finishes can be added to any Zenni frame. Pick out the frame that you'd like to purchase and add it to your cart.
2. Enter Your Prescription Information. You will be prompted to enter your up-to-date prescription information, as well as your pupillary distance (PD). Consult your eye doctor for these measurements, or check out our /measuring-pd-infographic">measuring PD infographic to measure your PD at home.
3. Choose Your Lens Index. A lens index will automatically be suggested based on your prescription. For more information about lens index options, check out our /prescription-lenses-guide">affordable lens buying guide. (Please note that 1.53 Trivex, 1.59 Polycarbonate, and 1.74 High-Index lenses cannot be tinted.)
4.  Select one of our mirror finishes. All of our mirror coatings come complete with an oil and fingerprint anti-reflective coating for maximum light reflection and no smudging.
5. Complete Your Order. Once your order is complete, we will start preparing your new eyewear and ship it out to you ASAP.
/blog/how-to-order-tinted-glasses/">Learn more about the different colors of tints that Zenni offers. And make sure to show off your new mirrored sunglasses by tagging #myzennis on your social media!